William Shatner Demystifies Being 'Star Trek' Star With New Documentary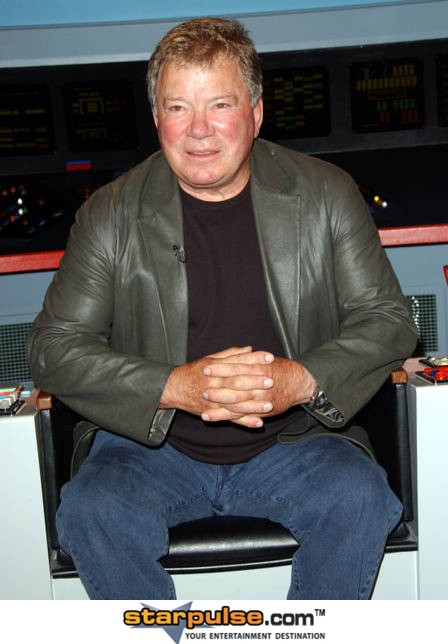 William Shatner is a legendary actor, but to millions of fans worldwide, he'll always be known as Captain Kirk. The Emmy winner knows that there are both perks and pitfalls to sitting in the center chair on a Star Trek starship, and he delves into both of those in his new DVD The Captains Close Up.
Picking up where his earlier flick The Captains left off, the documentary sees Shatner interviewing all five of the other folks who've earned the title "Captain," and finding out what makes them tick. Mr. Shatner graciously took some time out of his busy schedule to discuss the project with BFTV on Wednesday.
"I'm passionate about it," he said of why he decided to revisit the subject for a second time. "The Captains Close Up is quite different from Captains. Close Up is this intimate look at the human being. They reveal themselves in ways they've never talked to other interviewers before. They talk about things that are so close to them that it's surprising.
"Each one of those interviews has moments you won't have seen before. [Like] Avery Brooks and his music, and Kate Mulgrew, who talks about sacrifices she made to become an actress. And that's what I thought was important for people to see - the humanity."
In the feature, Shatner sits down for one-on-one conversations with successors Patrick Stewart (Star Trek: The Next Generation), Avery Brooks (Star Trek: Deep Space Nine), Kate Mulgrew (Star Trek: Voyager), Scott Bakula (Star Trek: Enterprise) and Chris Pine (the feature films Star Trek and Star Trek: Into Darkness). Did any of them provide anything unexpected?
"They all surprised me," he continued. "I had an interview show on Bio for three seasons called Shatner's Raw Nerve, and during those 39 interviews, I realized I had a gift for getting people to talk about themselves. And so I thought that might work in a documentary. Although it's surprising that they reveal stuff as intimately as they do, and yet I felt I could go there with them, because I was their peer."
Perhaps no one cast member is a larger figure in Trek history than Shatner, who played Kirk both on television and in multiple feature films, directed Star Trek V: The Final Frontier in 1989, and has co-written several novels in the universe. It's also been more than four decades since he first stepped onto the bridge of the starship Enterprise, so it's understandable that he might be a bit weary of the franchise by now. Yet talking to him currently, he speaks of the franchise that's made him as immortal as any actor gets with a sense of gratitude.
"It is the reason I'm talking to you," he told us. "I'm talking to you because I played Captain Kirk years ago and arrived at a celebrity, and as a result of that celebrity I was able to get other things that showed people that I am an actor and capable of a multitude of roles."
Indeed, he said the biggest perk of the part over all that time has been "Entry into all these halls of work, whether I played a policeman [as in T.J. Hooker] or a lawyer [Boston Legal]. The fact that I have people who follow me, an audience. If you have a large audience, you're a star. And this large audience is there because of Star Trek."
He continues to expand his already lengthy resume. In addition to the release of The Captains Close Up, he has a new book on the way in September. A fresh album, entitled Ponder the Mystery, arrives on October 8. "I wrote the lyrics and Billy Sherwood of Yes wrote the music," he said. "We think it's going to be terrific." Then there's Brown Bag Wine Tasting, the interview series he hosts on his website; the most recent episode featured Grammy winner Dave Koz as the guest.
Then there was the original Captains, the trailer for which you can see below.
But even with all that going on, Shatner retains a soft spot for the documentary that finally, definitively shows what it's like for an actor to be sitting in the captain's chair.
"The Captains Close Up is something that I think not just fans of Star Trek, but people who are interested in people should take a look at. This is fascinating material that you can't find anywhere else," he reflected. "I want them to take away the humanity of these individuals. You will see them as human beings."
The Captains Close Up is now available on DVD.
(c)2013 Brittany Frederick. Appears at Starpulse with permission. All rights reserved. No reproduction permitted. Visit my official website and follow me on Twitter at @tvbrittanyf.