William Levy Talks Fleeing Cuba, Finding Instant Fame & 'Dancing With The Stars'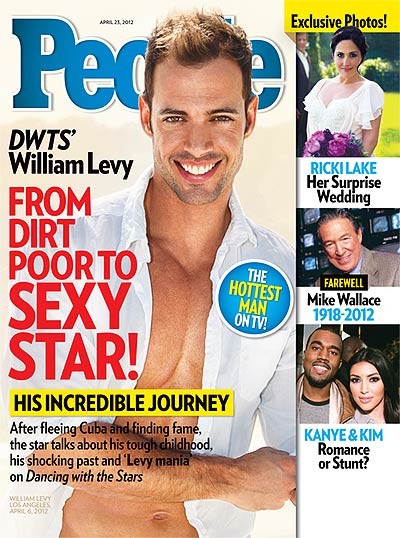 Dancing With The Stars heartthrob William Levy opens up in this week's issue of PEOPLE about his tough childhood and making women swoon with his fancy footwork. After fleeing Fidel Castro's Cuba and finding fame, the overnight sensation talks about his shocking past and taking America by storm with his smooth moves and "12-pack abs." The sight of the 31-year-old actor shaking his chiseled tail-feather routinely whips the ABC show's studio audience into a lather. "When William walks out there, it's Beatlemania," says judge Carrie Ann Inaba. "The girls start screaming – before he's even danced!"

Over the border, the soft-spoken Levy is known as "the Latin Brad Pitt" who played the romantic lead in Triunfo del Amor, a Mexican telenovela that drew an audience of millions in Latin America and Spanish-language TV here. Still, Levy, who despite his smoldering image is always laughing and grooving as if there's a song playing only he can hear, is bowled over by crossover success. "To come to this country and receive this kind of love from people you don't even know, it's amazing," he tells PEOPLE.

Raised by single mom Barbara in Cuba, he grew up poor and malnourished in the fishing village of Cojimar (his last name comes from this grandfather, who was Jewish; Levy converted to Catholicism in 2009). "They give you a bread per person every day. They give you a quarter of a chicken per person every month," he says, still shocked at the memory. When he was 15, Levy and his family prepared to flee Cuba illegally by boat. "It was going to be very dangerous," he recalls. "I didn't know if we were going to make it, but it was a do-or-die situation." Just before their planned escape, his stepfather received asylum in the U.S., which enabled the family to legally emigrate. From watching movies, "I only knew that the refrigerators had everything," he tells PEOPLE. "You open it and you'd see ham, cheese, Coca-Cola… All I knew was my refrigerator was going to be full of stuff."

Levy struggled as a newcomer in Miami, dropping out of college because he couldn't afford it – even with a baseball scholarship – and made ends meet as a construction worker making $50 a day. Then, on his way to pay his mother's driving ticket, he walked into a modeling agency and offered his services. "They said, 'Do you have a book?' A book? I had no idea!" It didn't matter: "The next day I was working."

He never liked modeling, and switched to acting. Last year he caught the eye of Jennifer Lopez, who featured him in her video "I'm Into You." Their steamy beach scenes, as Lopez's marriage to Marc Anthony was crumbling, caused relationship rumors to swirl. "We were professionals," insists Levy. "I didn't know what was going on with her!" In 2010 Levy and actress girlfriend Elizabeth Gutiérrez – who have son Christopher, 6, and daughter Kailey, 2 – ended their eight-year romance. Gutiérrez and Christopher cheer him on weekly at DWTS, but he won't say if they have reconciled. "As a couple, you go through ups and downs," he says.

When it comes to his kids, however, Levy has no qualms about proclaiming his love. In 2006, when a then-pregnant Gutiérrez craved cereal in the middle of the night, he ventured out to buy milk. Suddenly he broke down crying in his car, thankful to live in a country where he could go out in the middle of the night and buy milk for his unborn son. "It's such a little thing: milk," he admits, but ever since, "I find joy in everything I never had before. I try to give my kids everything I never had." No matter how loud Levy's DWTS fans get, he'll always stay humble. "God brought me over here, and I appreciate it every day," he tells PEOPLE. "There's no way I could lose my feet off the ground: My heart is too heavy for that!"


*Also In This Week's 'People'*

Exclusive Photos – Ricki Lake's Surprise Wedding: "I'm So Happy"
Amanda Bynes – Young Star, Big Trouble: "She Didn't Really Know Where She Fit In"
Blair Underwood: "I've Gotta Take My Shirt Off Eight Shows A Week…I Have To Look Good!"
People's New Initiative: People Teacher Of The Year Award


Check out all this and more in the new issue of PEOPLE magazine, on newsstands everywhere now!