William H. Macy Had Awkward First Meeting With Adult Star Who Played His Wife In 'Boogie Nights'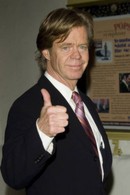 The porn star who played actor "William H. Macy"'s cheating wife in hit 1997 film Boogie Nights tried to shock him at their first meeting by grooming herself in front of him.

The Cooler star admits he was a little intimidated by Nina Hartley when they first met in her trailer - because she didn't seem to have any boundaries.

He tells Hustler magazine, "When I walked into the trailer on the first day, it was full of people (and) there was Nina shaving her la-la (genitals) with her legs up on the table. I thought, 'Wow. Are we gonna get along?'"

But Macy needn't have worried - he and Hartley became good friends on the set and he still keeps in touch with her.

He adds, "I've met with Nina a bunch of times to ask her (about) the ins and outs of that life (adult industry). She's a good friend. She's funny. She's smart as a whip and very entrepreneurial."