William And Kate Will Be 'Normal, Modern Parents'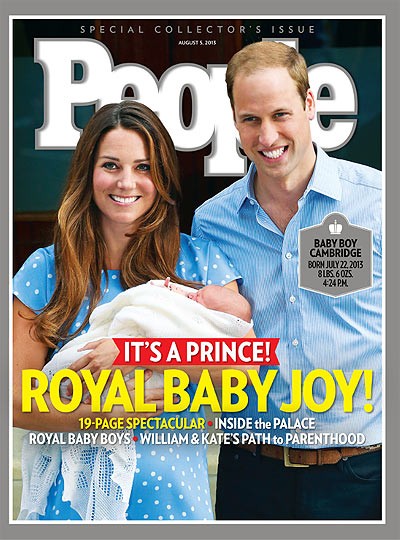 After nine months of breathless public anticipation, William and Kate welcome a healthy baby boy. This week's special collector's issue of PEOPLE features a 19 page spread full of details about the arrival of Prince George Alexander Louis of Cambridge. Of course this is no ordinary birth: Not since Queen Victoria's 19th century reign has Britain had three living direct heirs to the present monarch. "This is the icing on the cake," says a friend. Adds royal historian Robery Lacey: "You can see the monarchy's future stretching into the next century."

For an ultradiligent princess, the birth came with a daunting new challenge: uncertainty. And yet, even as her mid-July due date came and went, Kate was determined to let her little one call the shots. Despite chatter that Kate would have her mother, Carole, and sister Pippa in the delivery room, only she and William were there for the baby's first breaths. Had Carole been present, "she would find out before the Queen, and that would break tradition," notes British baby expert Rosie Pope.

But as they have done since the start of their modern fairy tale romance, the new parents are determined to put a contemporary spin on things. William is expected to retire from the Royal Air Force to become a full-time working royal, and "when he is not in uniform or on royal duty of some kind, I absolutely see him as a modern dad yes, he will have a Baby Bjorn and push a pram," says Prince Charles's cousin India Hicks. If Princess Diana ushered in a new era of gentler, playful royal parenting, look for William and Kate to take the approach even further. "They will be totally different from any other member of the family before," says a friend. "They will be normal, modern parents okay, in a rarefied existence, because of who they are and the facilities that they have. But they will be very much hands-on."

Still, there will be royal duties to tend to, and paid help is a necessity. "They can't operate without backup," says royals author Ingrid Seward. At their vast spread in Kensington Palace, which Kate has been renovating with the help of a decorator in hopes of moving in by fall, "they will have a full staff," says Seward, including a housekeeper whom they hired earlier this year. Also lending a hand will be both sides of the family, with Kate expected to lean heavily on her parents, Carole and Michael.

And royal grandpa, Prince Charles has been telling friends that the new parents "have got to be allowed some family time," says Seward, "so maybe Prince Harry will step in to do more duties and William will step back a little bit just to give them some time. Charles is adamant about that."

With the eyes of the world now focused on the tiny bundle of joy set to someday wear the crown, the low-key days William and Kate cherished as college sweethearts in Scotland and later as newlyweds in Anglesey, Wales, are far behind them. As they drove away from the hospital with their new son safely fastened in a car seat, they were no longer "the university couple or the couple who lives in Anglesey," says Sophia Money-Coutts of society glossy Tatler. "They are the parents of the third in line to the throne. It is a new beginning."

More on the Royal Baby is featured in the 8/5/13 issue of PEOPLE, on newsstands now.

*Also In This Week'S 'People'*
Lea Michele's Broken Heart: Saying Goodbye To The Man She Called "My Forever"
Maksim & Karina: Finally Friends – "We Had A Treaty Session"
Inside The Secret Life Of The Boston Bomber's Wife – "We're Seeing Glimspes Of The Old Katie Again"
In The Kitchen With Gina Neely – How She Lost 30 Lbs!