William and Kate Leave Hospital After Showing New Baby To The World (See Pics!)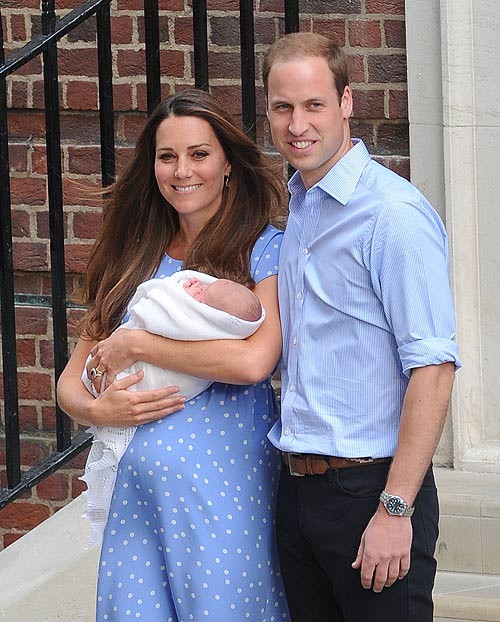 The Duke and Duchess of Cambridge, Prince William and wife Kate Middleton, left the hospital on Tuesday with their newborn baby boy.

The couple met with the crowd of fans and photographers on the steps outside the Lindo Wing of St. Mary's Hospital in London to introduce the public to the future King of England.

The couple grinned, both obviously ecstatic over their new addition, and spoke briefly with reporters outside.

"It's been very emotional," Duchess Catherine said. "Any parent will know what this feeling is like."

"He's got her looks thankfully," William added, to which Kate replied, "No, no, no, I'm not sure about that."

William updated the crowd on the baby's name and also noted that the 8lbs 6oz newborn is "quite heavy."

"He's got a good pair of lungs on him, that's for sure," the Prince said. "He's a big boy, he's quite heavy and we're still waiting on a name -- we'll have that soon."

Middleton's parents, Michael and Carole showed up to the hospital to see their grandchild hours earlier; and when William's father Prince Charles arrived with wife Camilla Parker Bowles he told the crowd, "You'll see him in a minute" when asked about his new grandson.

William and Kate went back inside the hospital moments after appearing before the waiting press and gathered their things. The royal family emerged soon after, got into their Range Rover and left the hospital around 6:30 (GMT) on Tuesday to head home to Kensington Palace.

31 years ago, William's parents Prince Charles and Princess Diana presented him to the public in the same spot.
The baby is the third in line to the crown, after his grandfather and father.