Will This Be The End Of 'Community' Or Can Greendale Be Saved?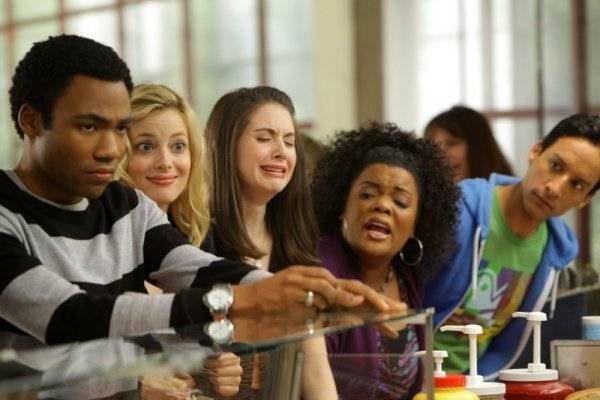 NBC's "Community," a show that is "streets ahead" of its contemporaries, is likely to suffer the same fate as another famous show that couldn't be saved by its cult status: FOX's "Arrested Development" which ran from 2003-2006 and arguably launched the TV-on-DVD phenomenon. Like "Development," the brilliance of "Community" comes from the show's unwillingness to pander to the audience or go for cheap laughs (unless they are intentional/ironic). The writers of the show are also keen on building up punch lines over the course of an entire season and even stretching jokes across seasons. Even though the series is consistently hailed as the most intelligent show on television, six seasons and a movie are looking very unlikely for "Community." 
On November 14, NBC announced that it would be putting "Community" on a midseason hiatus with no definite date for its return. In its place on Thursday nights, "30 Rock" will air starting in January. The day after the announcement, fans and critics were up in arms about the announcement which ostensibly equates to a death sentence for a show which is only in its third season. In the following weeks, Twitter hashtags like "#sixseasonsandamovie" and "#savegreendale" sprouted up and several Facebook campaigns have been started including a push for fans of the show to edit their profile picture to include a cut out black goatee, a reference to Evil Troy and Evil Abed from this season's "Remedial Chaos Theory." 
Even though the show's cast has been vocal about their feelings regarding the show's hiatus (Donald Glover, who plays Troy, commented on Twitter: "Britta'd it!," a reference to Gillian Jacobs' character), NBC executives have been silent on the fan reaction or the future of the show. The outlook is not promising, however. Even though the Facebook group "Save 'Community'" has urged fans to watch on Thursday nights and to encourage friends to watch as well, Reuters has reported that last week's Christmas episode, "Regional Holiday Music," only pulled in 3.6 million viewers, with a 12 percent loss in the 18-49 category. 
In an effort to prove to NBC that "Community" is worth saving, the cast of the show teamed up with CollegeHumor.com to create a "Save Greendale" video which is an obvious plea to save "Community." In the video, Dean Pelton (Jim Rash) explains that Greendale Community College may potentially be closed because of a small attendance problem. Some of Greendale's students give testimonials about why the college deserves to stay open. True to "Community" form, the video is full of inside jokes and references, once again demonstrating the show's intelligent and creative nature. 
For now, fans of the show will have to settle for watching past episodes on websites like Hulu.com or enjoying them at home on DVD and Blu-ray. With any luck, the show will return in the spring or next fall and won't be relegated only to reruns or YouTube material like Leonard's reviews of frozen pizza.