Will The Candidates' Celebrity Supporters Have Any Impact On The Presidential Election?

Celebrities have long made their political affiliations known, to both the disgruntlement and delight of fans. They've turned on-air time into opportunities to express distaste for our current administration; they've used their fame to help their chosen candidates. Like it or not, some celebrities never turn down a chance to talk politics. And, like it or not, the public often listens.
Politicians have shown their discontent with glitterati appearing in front of Congress (
Julia Roberts
,
Christie Brinkley
,
Michael J. Fox
and even Kevin Richardson of the
Backstreet Boys
have just done that in the past), but that doesn't stop Hollywood's elite from speaking out.
Who can forget the
Dixie Chicks
famous anti-
Bush
proclamation? The incident put the group under serious pressure from fans from the Bible Belt and even resulted in a quasi-boycott of their music. Who can forget
Kanye West's
Tourettes-like proclamation that "
George Bush
doesn't like black people?"
Within the past week, "
Private Practice
" star
Kate Walsh
was seen in Las Vegas campaigning for
Barack Obama
. Fellow ABC star
America Ferrera
of "
Ugly Betty
" was also spotted on the campaign trail in Vegas to show support for
Hillary Clinton
.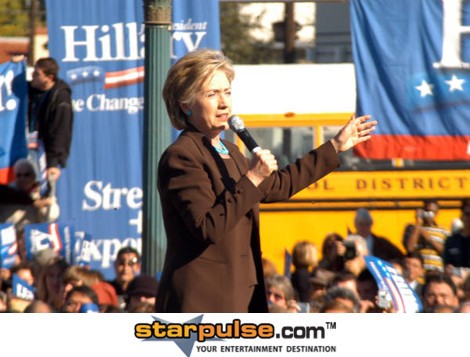 In an interview with "Good Morning America Weekend,"
George Clooney
gushed about his support for Obama, saying that he would "be a good president in 2010, 2012 and 2014."
"He's the most charismatic person I've been in a room with in a long time," Clooney said.
Will Smith
has called Obama "a hero."
Laurence Fishburne
called him "someone who is optimistic and positive."
Matt Damon
,
Ben Affleck
, rappers
Nas
and
Common
,
Emilio Estevez
,
Sharon Stone
,
Halle Berry
,
Charles Barkley
, and even three of the most powerful men in Hollywood-
Steven Spielberg
,
Jeffrey Katzenberg
and David Geffen of Dreamworks, who in the past have given financial support to Hilary Clinton-have all expressed their love for the young senator.
Uber-powerful
Oprah Winfrey
has famously shown her support for the Obama camp, an endorsement that has received major attention. Winfrey, noting his book "The Audacity of Hope," called his "sense of hope and optimism" refreshing.
And we all know what happens when Winfrey puts her name on any kind of product. It shoots to the top of The New York Times bestseller's list and becomes fodder for water-cooler conversation around the world. One can only wonder if her support for Obama will have the same effect.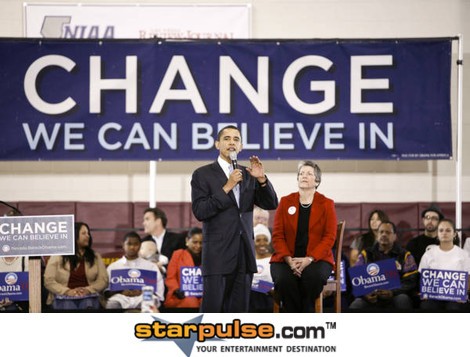 Judging by Obama's recent surprise success in the primaries, it seems plausible that the candidate's huge celebrity support system may have had some kind of impact. Hilary Clinton has barely received any public celebrity endorsements, and her results in the polls have begun to suffer, perhaps accordingly.
Hollywood is assumed to be left-leaning. Celebrities do, indeed, show support for Democratic candidates and so-called "liberal" issues more often than Republican "conservative" causes.
Self-proclaimed "born again Christian"
Chuck Norris
has officially endorsed presidential hopeful Mike Huckabee, a former pastor who is ultra-conservative.
Britney Spears
has even, in the past, expressed her support for President George W. Bush, although these days that endorsement doesn't carry much credibility.
With less than a year left until the election, time can only tell what kind of affect this mixture of celebrity and politics will have. Hollywood-darling Barack Obama very well may take the Democratic ticket, and his army of famous endorsers might be just the push he needs to take over the White House.
Story by
Sarah Lavery
Starpulse.com contributing writer