Will Rothhaar Astounds As Lee Harvey Oswald In 'Killing Kennedy'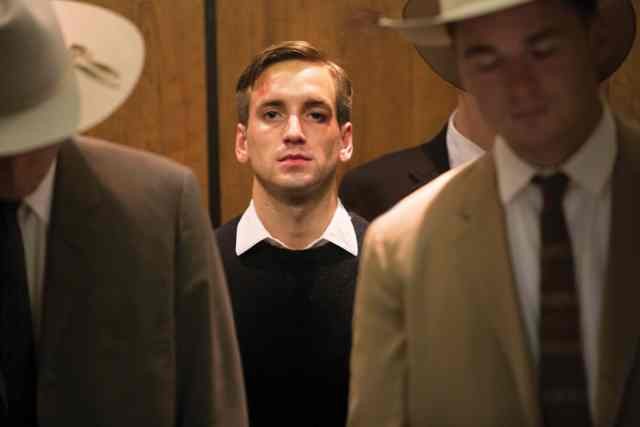 There was a lot of themed programming around the November anniversary of President John F. Kennedy's assassination, but none of it impressed us more than Killing Kennedy. With the TV-movie now available on Blu-Ray and DVD, BFTV checked in with Will Rothhaar, who brilliantly brought Lee Harvey Oswald to life.
"This particular story is really special to me," said the actor. "I was educated on the subject a lot as a youngster. My grandmother lived in Dallas. My parents both were huge advocates of John F. Kennedy. There's a lot of history with this particular story for me. It's a big responsibility, but I wanted to bring something different to the mix. Working with my director, Nelson McCormick, was a dream because I think we both were on the same page. We wanted to show a different side of Oswald."
To that end, Will purposefully avoided watching anything having to do with Kennedy or Oswald until months after shooting had finished on the film, and it paid off. His portrayal of Oswald is steadily unnerving, yet strangely sympathetic as Killing Kennedy shows us who the assassin was beyond that fateful day in Dallas. It's the level of performance that redefines an actor's career.
So what parts of the film is he the most proud of? "There's a couple scenes where I'm being interrogated that I was happy with," he said. "And then the very last scene before the day of the assassination, where I'm trying to win my wife [played by Michelle Trachtenberg] back and it doesn't go well for me."
"The thing about this film, JFK and Oswald never occupied the same space, ever. So me and Rob [Lowe] never got to work together," he explained. "We shot the film in eighteen days, which was insane, but they shot all the Kennedy stuff in the first eight, and they shot all the Oswald-Marina stuff for the second ten. It was like shooting two completely different films. It was very interesting to come to work like I was carrying the show."
Yet if you've watched TV over the last decade, you're likely aware of how talented an actor Will is. Last season, he impressed us as Petty Officer Josh Brannan on the underappreciated Last Resort; he's also one of a handful of actors to have appeared on all three of the CSI series, as well as Cold Case and Without A Trace. What you might not know yet is that he's a great person. That's evident in how fondly he speaks of making Killing Kennedy.
"When I'm on a project, it's all about the people for me," he continued. "It was a pleasure to do the work, but when I came to set, everybody, from the director and producers to my costumer, all the grips and electricians, cameramen, I loved coming to work every day. And Richmond is such an amazing town."
Not many actors would give props to the city in which their film was made and make a point of thanking the many behind-the-scenes crew members who made it possible. Yet that's who Will is: a strong actor who not only brings new shades to an infamous role, but has his heart in the right place.
"My thing in general is just no matter what you do, no matter where you go, just do everything you possibly can with as much love as you possibly can," he told us. "That changes the world around you and that makes the world a better place."
As he's built a substantial resume since making his acting debut in a 1995 episode of JAG, there are plenty of choices if you want to see Will in another project once you've screened Killing Kennedy. What would he recommend? "I would say Battle: Los Angeles. And I did a couple fun episodes of Last Resort," he told us. "And a couple years before that, Terminator: The Sarah Connor Chronicles. And perhaps a movie called 16 to Life."
When it comes to what he's watching, you're most likely to find him streaming a drama series. "I do catch up with things on Netflix," he said. "I'm a huge fan of Breaking Bad. The Wire is one of my favorite, favorite shows. House of Cards, for sure. And one that I'm chopping my way through right now that I'm just in love with, is Sons of Anarchy. One of my episodes of Last Resort was directed by Paris Barclay, who's an executive producer on that show. I would really love to do an episode of that. I'd come in for a line, I don't care."
Here's hoping that he gets more than a line; this is an actor we should be watching for decades to come.
Killing Kennedy is now available on Blu-Ray and DVD. You can also follow Will on Twitter (@PoetiqRothhaar).
(c)2014 Brittany Frederick. Appears at Starpulse with permission. All rights reserved. No reproduction permitted. Visit my official website and follow me on Twitter at @tvbrittanyf.