Will Robert Pattinson And Kristen Stewart Work Things Out?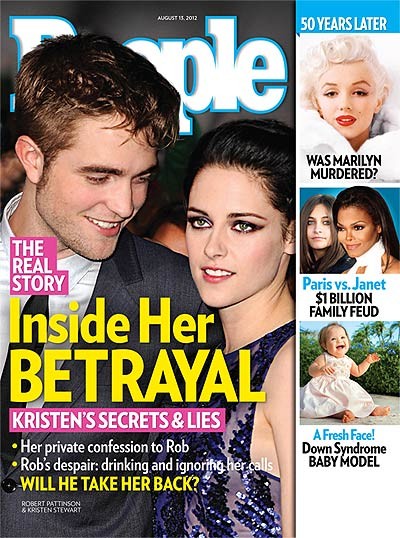 After a cheating scandal rocks their romance, Kristen Stewart, 22, and Robert Pattinson, 26, struggle with heartbreak, anger, and guilt – and confront whether their three-year relationship can survive. This week's issue of People examines Stewart's shocking betrayal and questions whether Pattinson will ever be able to trust and forgive his Twilight costar.

The romance of Young Hollywood's golden couple was shattered by revelations that the ferociously private actress – in a series of mortifying tabloid photos – hooked up with Rupert Sanders, the 41-year-old married-with-kids British director of Stewart's hit Snow White and the Huntsman. The scandal stunned Pattinson, who had been blissfully unaware of any problems in his carefully guarded relationship – and drove a stake through the heart of "Twihard" romantics, many of whom lashed out against Stewart with wounded hostility.

While Team Rob fans vented via social media, the actor himself found a surprising retreat: the serene Ojai, California vacation estate of actress Reese Witherspoon, 36, with whom he has remained friends since they appeared together in 2011's Water for Elephants. There, reeling from the deception and humiliation, Pattinson spent a few nights drinking, leaning on friends including his manager Nick Frenkel. He's "heartbroken and angry," a close source tells PEOPLE, and has been "drowning his sorrows" since the indiscretion exploded into worldwide news. For days the actor ignored a barrage of tearful texts and calls from his pleading girlfriend, says a source, and ordered Stewart to move her things out of his home. "This has been such a blow to Rob," says the Pattinson source. "Talk about having his heart ripped out."

Stewart, meanwhile, is consumed with guilt and regret over her "huge mistake," a confidante says. She's been leaning on her family for support. "Kristen's sad and upset and desperately wishes she could turn back the clock." Also thrown into the turmoil is the nearly nine-year marriage of Sanders and his wife, actress-model Liberty Ross, 33. "Her sole focus is on protecting the kids," says a source.

Behind the scenes, Stewart's private confession to Pattinson was even more wrenching than her public apology. "Telling Robert was the worst thing she's ever had to do," a Stewart source tells PEOPLE. According to insiders, Pattinson was blindsided when Stewart broke the news to him just before the story broke on July 24. "There were no signs that either of them was unhappy," says a Pattinson source. "He would have done anything for her."

By last weekend, Pattinson and Stewart began talking again. Still, those close to both sides say he is not in a forgiving mood. "Rob just isn't going to be able to get beyond the cheating – one time or not," says the source who knows them both. Beyond the betrayal, sources say Pattinson found Stewart's public apology excruciating. "It's heart-wrenching for such a private person," says the same source. "Kristen wanted to own up to things, as hard as it was for her to address publicly. She's punishing herself," says the source in her circle.

For now, both stars – who will be thrown together during the promotional tour for the final film in the Twilight saga, due out Nov. 16 – are still trying to get their heads around everything that happened. "I'm not sure they're going to be able to work through this," says the Stewart source, "but Rob is all that matters to Kristen right now. She loves him so much. She'd do anything to be able to get through this and be together."

Read more about the ongoing saga in the new issue of People, on newsstands everywhere now!


*Also In This Week's 'People'*
50 Years After Marilyn Monroe's Death: Was She Murdered?
Down Syndrome Baby Model: "She's An Example Of Inner Beauty"
Cake Boss Buddy Valastro On His Mom's Als Diagnosis: "She Didn't Deserve This"
Gerald Butler On Jessica Biel: "She's An Incredible Athlete"