Will Power Wins First Verizon IndyCar Series Championship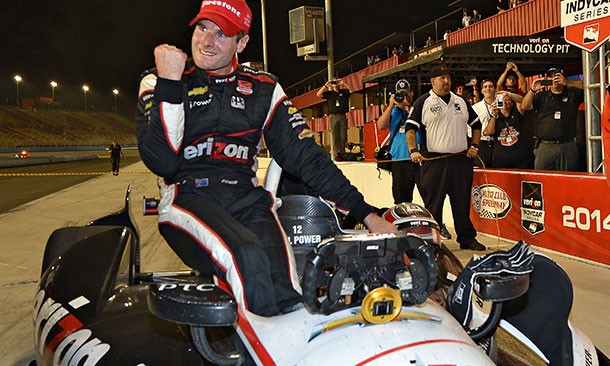 Four months after he spoke with Starpulse at the Grand Prix of Long Beach, Will Power has clinched his first ever Verizon IndyCar Series championship, and the first for Team Penske in eight years.
"You've just got to always be out there, knocking on the door," said Power when we asked him in April what it would take for him to capture a title. "I think that's the only way you're going to win a championship."
Having been doing just that for several years, on Sunday night the door finally opened for the Australian-born driver. Power's ninth-place finish in Sunday's MAVTV 500 clinched him the overall season victory with a 62-point lead over teammate Helio Castroneves.
He had previously been championship runner-up in three of the last four seasons: 2010, 2011 and 2012.
Back in Long Beach, Power had spoken of just how much it takes to capture an IndyCar title. "It's hard to maintain the amount of work and energy you really have to put in to win the races," he explained. "It's easy to kind of dip in the season when you start to get fatigued. It's every weekend and mentally you kind of get drained."
Following Sunday night's competition, he was a walking - and celebrating - example of his own words.
"That was one of the hardest races ever," the 33-year-old told reporters afterward. "Oh my God, I was crying. It just went on and on."
"I'm so mentally exhausted right now. My hands are numb from holding onto the wheel so tight. I can't believe I won it."
Aside from Power's achievement, Sunday was also an important night for the trio of drivers who finished on the podium.
Tony Kanaan of Target Chip Ganassi Racing won the race - his first victory in the No. 10 car previously driven by Dario Franchitti and the late Dan Wheldon. Kanaan's teammate Scott Dixon, last year's IndyCar champion, finished second.
Ed Carpenter, in the final outing for Ed Carpenter Racing (the organization now merges with Sarah Fisher Hartman Racing to form CFH Racing), came in third.
Power's victory marked the first championship for Team Penske since Sam Hornish, Jr. in 2006. It also was the second year in a row that Castroneves was championship runner-up. If Power's ascension to the top spot is any indication, maybe that's a good thing.
To read our original interview with Will Power, Helio Castroneves and Juan Pablo Montoya of Team Penske, click here.