Will Katie Couric And Matt Lauer Reunite?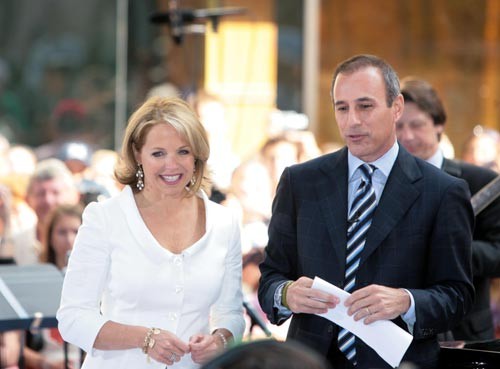 Fans of the 'Today' show of yesteryear might be having a cow right about now, as Bart Simpson would say.
Word on the street – or at least in the New York Times – is that Katie Couric and Matt Lauer might reunite for a syndicated talk show in a year or two.
That's a big maybe, but surely syndicators' mouths are watering at the thought.  It's widely known Katie Couric is unlikely to renew her contract with CBS News for her anchor job when her five-year contract expires this summer.  'Today' host Lauer is said to be mulling a departure from that program at the end of his contract in December 2012.  (Co-host Meredith Vieira is also looking to exit after five years this fall.  Talk about a shake-up.)
The only sticking point: Couric could have a show ready for syndication by Fall 2012, while Lauer would have to wait a few months – or pull double duty.
What do you think?  Should these news superstars reunite?  They might be a little late to replace the departing Oprah in the ratings, but they could be a smash in their own right.  Will advertisers line up?

Incidentally, the pair is reuniting on 'Today' on Wednesday so Couric can promote her new book.  A sign of what's to come?  We shall see.