Will Ferrell & Zach Galifianakis Launch Their 'Campaign' Tour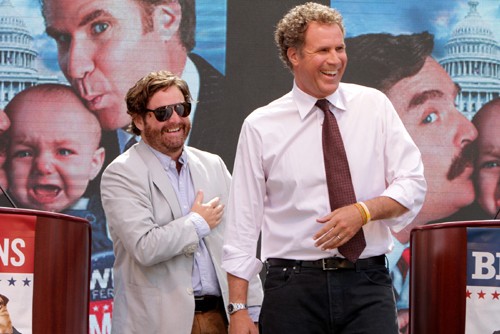 Yesterday, funnymen Will Ferrell and Zach Galifianakis began their campaign trail at The Grove in Los Angeles.

The two stood on podiums, joked with fans and attended a press conference that centered on their roles as out-of-control political rivals in Warner Bros. irreverent new comedy "The Campaign."
At one point Ferrell proclaimed, "Thank you for coming out to the historic Grove," and Galifianakis added, "Where even the homeless people are fake."

In the film, two powerful CEOs pit a blundering congressman against an unlikely political newcomer in order to seize control of a crucial North Carolina district. As Election Day draws near, Brady (Ferrell) and Huggins (Galifianakis) cast ethics aside to engage in the brand of hysterical mud-slinging that's sent contemporary politics straight down the toilet.

Ferrell and Galifianakis will be doing an 11-city whistle-stop tour of public appearances across North America from now until Tuesday, July 31.

"The Campaign" hits theaters on Friday, August 10.
See more photos from the campaign trail...