Will Ferrell Goes 'Semi-Pro' This Weekend

Will Ferrell
hopes to keep his streak of sweet buffoonery alive this weekend in the flick "
Semi-Pro
," a comedy starring
Woody Harrelson
,
Andre Benjamin
(better known as
Outkast's
Andre 3000), and Ferrell himself playing owner/player/coach triple threat, Jackie Moon.
Set in the 1970s, "Semi-Pro" is the story of a rogue basketball team, the Flint Michigan Tropics, which is part of the ABA. It faces the threat of being dissolved, but with a top 4 finish it will be subsumed into the more respectable NBA.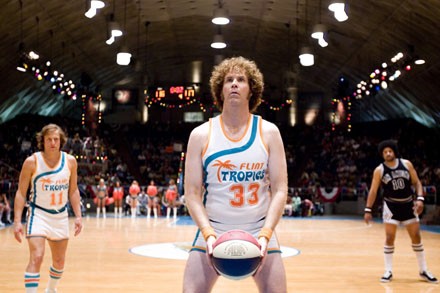 Recently, TV spots featuring a camera slowly panning the length of a naked Ferrell, covered only by a strategically placed basketball, and Super Bowl commercials which end with Jackie Moon saying, "Bud Weiser, Suck One," have created a wide national audience that will hopefully line up for another one of Ferrell's sports comedies.
Ferrell's character buys the struggling Tropics with the windfall he receives from his hit song, "Love Me Sexy," and uses his salesman flair to attract audiences to each game. From what one can glean from the trailer, these tactics involve bikini clad women, "pancake night, clown night, and a live camel in here…just to see what happens."
Ferrell's hilarious look is strikingly reminiscent of Mike Brady, and smaller parts played by the always absurdly funny
Will Arnett
and
Andy Richter
promise to deliver as well. Riding high off of his $118 million juggernaut "
Blades of Glory
," Ferrell promises that sports and comedy are a lucrative couple.
Movie preview by
Tiffany Bagster
Starpulse contributing writer