Will Ferrell: 'Everything Must Go' Was A New Challenge That I Really Wanted To Try'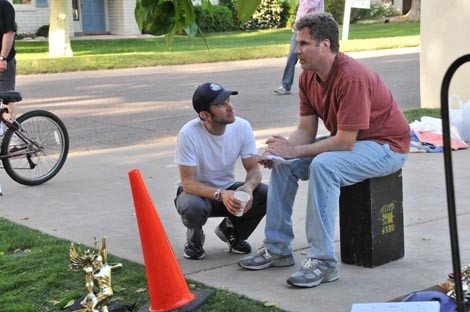 Will Ferrell's new movie is a bit more dramatic than his usual comedies. In Everything Must Go, he plays a man who comes home to find all his belongings on the front lawn after his wife leaves him. He is also an alcoholic so has a few binges in the movie, and Ferrell plays it straight.
"I'm getting the question, were there moments you were tempted to make them funny," Ferrell said. "I don't think you can sit down to read a piece of material like this and start earmarking it with 'Ah, this would be funny. I should barf on myself here. I know how to spice that up.'"
There are funny moments as Ferrell's character decides to have a yard sale and interacts with the neighbors. "It's evident from the beginning what the tone's going to be and that's where you put your mind. You think of it as a serious piece. Including the playing of jokes, we were very cognizant of avoiding having any false moments. We wanted the comedy to happen organically too and never feel forced or pushed."
Everything Must Go comes after we've seen Ferrell go a little dark on The Office. Deangelo Vickers showed a dark side at the Dundees and other business meetings. "Deangelo is pretend dark though," Ferrell said. "Nick [in Everything Must Go] is real life dark."
It's just a coincidence that we're seeing both roles at the same time. Ferrell is not announcing a dark period in his career. "The Office I left up to that writing staff to create whatever they wanted to create and that's what they chose. Everything Must Go, this whole process happened probably two years ago when I first met [writer/director] Dan [Rush] and read the script. Regardless of whether it was darker or this or that, it was just such a unique project, a new challenge for me and something I really wanted to try."
Everything Must Go opens Friday.
Click for more great Will Ferrell pictures: