Will Audiences Get Tired Of Zach Galifianakis?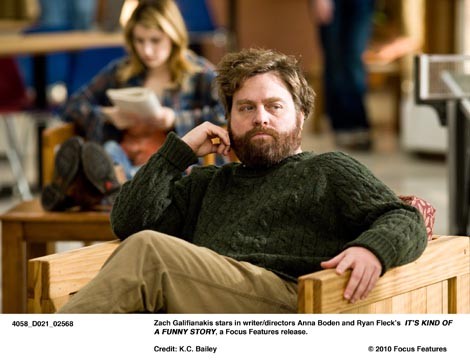 This weekend, Zach Galifianak is will appear in "It's Kind of a Funny Story," number two of three films to come out in the second half of 2010. "Funny Story" is definitely a departure for Galifianakis who is given a chance to show a more serious and somber side of himself as a patient in the psychiatric ward of a hospital who is estranged from his only daughter. Then, next month, he will co-star with Robert Downey, Jr. in "Due Date" from Todd Phillips, the director of "The Hangover."
Fans of Galifianakis' stand-up are aware that he has been performing as a part of the alternative comedy movement since the late 1990s, but only recently became recognizable to mainstream audiences. His unique brand of humor relies on his deadpan delivery and he often engages his audiences in an Andy Kaufman-like tug-of-war between what is real and what isn't. For true proof of his genius, one need look no farther than his "Between Two Ferns" videos on FunnyorDie.com.
As an actor, Galifianakis has appeared in a significant number of films, usually in a small, but memorable, part. It was last year's appearance in "The Hangover" that made his bearded and disheveled appearance seem ubiquitous in popular culture. As Alan, the slightly odd and off-putting soon-to-be-brother-in-law of the groom, Galifianakis contributed the movie's funniest lines and most memorable character.
Now, he has several new projects lined up, including the "Shrek" spin-off "Puss in Boots" as well as a sequel to "The Hangover" which is rumored to take place in Thailand. Galifianakis is also a regular on the HBO series "Bored to Death" with Jason Schwartzman and Ted Danson.
So, are audiences going to grow weary of Galifianakis' performances? His career trajectory seems eerily reminiscent of Jack Black who rose from being the funniest person in a scene to quickly being the most annoying person on camera. In movies like "High Fidelity" and "Orange County," Black stole every scene he was in. After becoming a marquee name with "School of Rock," audiences quickly grew tired of his one-note performances.
One has to think that the future holds a different outcome for Galifianakis, though, for two reasons. First, he has a magnetic presence on screen that is unlikely to become stagnant anytime soon and with "Funny Story" he appears to be branching out in his choice of roles while still remaining as a secondary player. Second, Galifianakis exudes a kind of indifference to fame or success when being interviewed and rarely speaks seriously about any of his projects. This apathy towards stardom may just be what keep Galifianakis in the spotlight for the long run.
Either way, audiences are going to get a lot more of Galifianakis in the near future as his particular style of comedy is likely to continue to entertain moviegoers.