Will Arnett Confirms Fifth Season Of 'Arrested Development,' Kicks Pinatas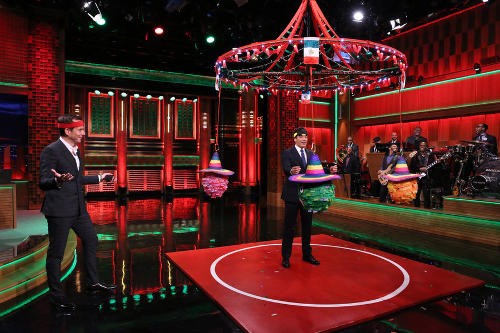 Will Arnett will be involved in the upcoming fifth season of Arrested Development, he told Jimmy Fallon on last night's Tonight Show before he kicked some pinatas around.
NetFlix chief content officer Ted Sarandos said there would be a fifth season of the beloved ensemble comedy, which was canceled by FOX in 2006 before getting resurrected on NetFlix for a fourth season. "It's just a matter of when," Sarandos told USA Today, in reference to the cast's busy schedules.
Once Will confirmed the news and chatted about his part in Teenage Mutant Ninja Turtles, which is out this weekend, he and Jimmy faced off in a pinata competition. However, no bats were allowed; in the spirit of TMNT the two had to karate kick their way to victory blindfolded and with the pinatas slowly rotating around them.
Check out the video to see who was the pinata master!