Wild Sweet Orange: New Video & February Tour

If you're like us and you have
Wild Sweet Orange
's song "Wrestle with God" on constant repeat, you're in luck, because the band made a video for the track. So, now you can bring the experience to yet another one of your five senses. Next up, Wild Sweet Orange scratch 'n' sniff stickers. Ok, not really, but you can click the links below to watch the clip...
The video was directed by Don Tyler, the Cleveland-based music video director best known for his combined use of live action and animation. Tyler has also done videos for
Foreign Islands
,
Mason Proper
,
Mastodon
,
Ringworm
,
Midtown
and Don the Reader, and recently directed a live-action trailer for an upcoming sequel to the popular video game Obscure.
In other good news, WSO will be touring in February, hitting the east coast and the Midwest, including a three-week residency at Schuba's in Chicago.
Wild Sweet Orange On Tour:
Feb 1 - Greene Street - Greensboro, NC *
Feb 4 - Schuba's - Chicago, IL *
Feb 5 - Horseshoe - Toronto, ON
Feb 6 - Petite Campus - Montreal, QC
Feb 7 - Mercury Lounge - New York, NY *
Feb 8 - North Star - Philadelphia, PA *
Feb 9 - Penn State - State College, PA *
Feb 11 - Schuba's - Chicago, IL *
Feb 12 - Varsity - Minneapolis, MN **
Feb 13 - Majestic - Madison, WI **
Feb 15 - Blind Pig - Ann Arbor, MI
Feb 16 - Crofoot - Pontiac, MI
Feb 18 - Schuba's - Chicago, IL ++
Feb 19 - Birdy's - Indianapolis, IN ++
Feb 20 - Basement - Nashville, TN
Feb 21 - Smiths - Atlanta, GA (BMI showcase)
Feb 22 - 40 Watt - Athens, GA *
Feb 23 - The Social - Orlando, FL
*Headlining
** w/
The Whigs
++ w/
Absentstar
QuickTime
|
Windows Media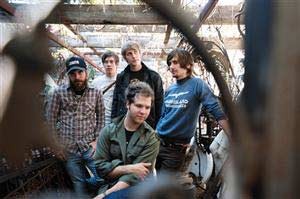 (Streaming audio and/or video links may expire without notice)