Wife, Mother, Badass: Kathryn Fiore Takes Us Inside TBS's 'Wedding Band'
Imagine that you're an actress and a character description comes across your desk: loving wife, devoted mother...and crime scene investigator. You also get to work with a cast that includes Brian Austin Green, Harold Perrineau and Peter Cambor. It's not hard to see why Kathryn Fiore calls TBS' new comedy series ​Wedding Band​ "my favorite job I've ever had."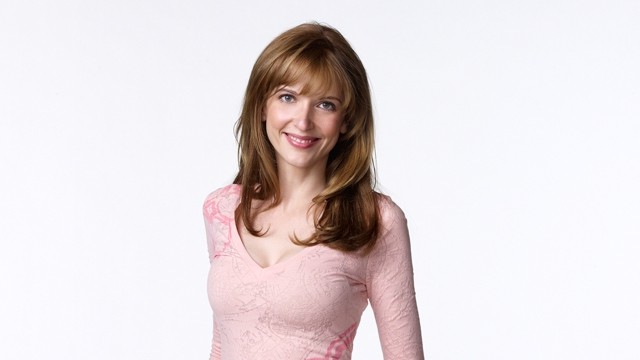 The ​MadTV​ veteran plays Ingrid, the loving wife of band member Eddie (​Cambor, who was a regular in the first season of ​NCIS: Los Angeles​) and mother of his two kids. However, her role is far from the typical 'spouse of a main character' that you'd see on other sitcoms. For one, Ingrid is also Seattle's most decorated crime scene investigator, and that isn't just a line in her bio. "In the pilot, it's not really addressed what she does for a living; cut to episode two, she's got crime scene photos and it's very badass," Kathryn gushed. "I love that. I was so excited just to have a badge and a gun and say things like blood spatter."
"There's an episode where Eddie and his brother-in-law, I kind of catch them in some lies and I get to use my CSI knowledge to track them in that. It may or may not involve him going to a taco stand that he's not allowed to. That was one of my favorite moments. We actually based that on something that happened in real life," she added. "The writers are great in that they really listen to us. I'll be telling them something that happened and suddenly it becomes part of the next episode."
Another draw for Kathryn was the chance to portray one-half of a strong marriage. "Ingrid, I think, is very much like me. It's been great being able to develop her over a whole season and go through all of the challenges that she has in her marriage but also all the fun times," she explained. "The character of Ingrid was just so real, she wasn't your typical TV wife that's always nagging the husband. She's kind of badass, and she's a great mom and really, genuinely in love with her husband. They have a real romance and that was so attractive to me - a marriage that has its ups and downs but there's a real love."
"The entire cast would agree that it was a very unique experience for all of us when we first saw the script. It was just a rare breed of script, genuinely funny but so real at the same time. Maybe part of it is that it's in an hour-long format. You get all the hilarity and the dramatic moments as well," she continued. "It doesn't feel like going to work. We all really bonded from the time that we met at the table read. We hang out all the time. It's just like goofing around with your best friends all day. It's amazing to work with people who are so phenomenally talented and so professional and so nice."
That includes Brian Austin Green, who plays the band's lead singer Tommy - a role that's far removed from the last time he was a TV series regular, as tough guy Derek Reese on FOX's ​Terminator: The Sarah Connor Chronicles​ . "He's such a brilliant actor," praised Kathryn. "People are going to be blown away by him on this show, I think - his comedy chops but also he's so real and so charming. He does all his own vocals on the show."
They're equally likely to be impressed by Kathryn, who has plenty of charm and expert comic timing. She steals many of the scenes that she's in. Maybe that's because acting is in her blood and comedy is her genre of choice. "My parents are both actors and so it was very much a family business," she explained. "My dad was always doing crazy characters. He and my mom had a comedy act back in the 60's. My dad went on to be acting his entire life. From the time I was a little kid, I think that was what I wanted to do. I thought that was what every family did. It just seemed normal."
"I'm a huge fan of comedy in general," she continued. "My dad's probably my favorite comedic actor and my husband second to that, but I'm related to them, so I'm probably a little bit biased. I love Ricky Gervais, I love Steve Martin, I think I can watch Planes Trains and Automobiles every day and not get tired of it. I love the old movies from the 1930's and the 1940's with Cary Grant and Barbara Stanwyck."
Even during ​Wedding Band​ 's hiatus, Kathryn's been working in comedy. "I have a movie that I just did over the summer which has the longest title of any movie in the history of cinema," she quipped. "It's called 30 Nights of Paranormal Activity with the Devil Inside the Girl with the Dragon Tattoo. It's a really funny horror movie spoof and I think people will really like it."
Yet while she's making people laugh, she also shares Ingrid's domestic side. "I have sort of a Martha Stewart fantasy. I'm usually baking, cooking, arranging flowers," she confided. "I love anything that has to do with party planning. I'm already making my Thanksgiving spreadsheet and I'm already doing Christmas shopping." That is, when she's not being called upon to use her faux forensic expertise to track her TV husband to a taco stand. What better job could there be - and what better actress to take it on than Kathryn Fiore?
You can keep up with Kathryn on Twitter (@KatFiore13). Wedding Band premieres tonight at 10 PM ET/PT on TBS.
For more from Brittany Frederick, visit Digital Airwaves and follow me on Twitter (@tvbrittanyf).
(c)2012 Brittany Frederick/Digital Airwaves. Appears at Starpulse with permission. All rights reserved. No reproduction permitted.