Why You Should Be Watching 'The Middle'

Contrary to modern belief, the sitcom (or "comedy" for those born after 1995) has not been derailed. Yes, that little thing called reality TV has made networks almost forget about that television genre that made the '80s, and part of the '90s, so great. But, fret not. Networks haven't completely forgot about sitcoms.
With new favorites like Modern Family and Glee and older favorites like How I Met Your Mother and The Simpsons dominating the ratings, there's the little-show-that-could called The Middle that may have slipped off the radar.
Set in the small fictional town of Orson, Indiana, The Middle follows the day-by- lives of the Heck family.
Patricia Heaton (Everybody Loves Raymond) stars as matriarch Frankie, a not-no-successful car salesman at a local car dealership. Neil Flynn (Scrubs) plays her brutally honest and sarcastic husband Mike, who works as a night shift driver who delivers snack cakes. (Mike used to work at a quarry but lost the job when the plant closed for scientific research after he discovered a dinosaur bone there.)
It's going to be hard for Heaton to get completely away from the Debra Barone character from Everybody Loves Raymond that she made so famous, as her Frankie character isn't much of a stretch. Yet the character is believable enough to give it a chance. And it's a far cry (sort of) from her character in the canceled FOX TV series Back to You.
It may also be hard for viewers to forget Flynn as Janitor on Scrubs. It's as if we finally find out that Janitor's real name is Mike Heck and that he and his family have moved to the middle of Indiana, as Flynn genuinely delivers his classic funny one-liners here as he did on Scrubs. But his chemistry with Heaton makes his new character feel fresh, new and familiar without being clichéd.
Then there are the Heck kids.
Axl, portrayed by Charlie McDermott (Frozen River), is the teenage son, a jockey, semi-nudist (seriously) and often rebel who occasionally has a soft spot; Eden Sher (Weeds) plays the socially awkward teenage daughter Sue who has tried out for every sport and extracurricular at school known to man without ever being accepted into any of them; and Atticus Shaffer (The Unborn) plays Brick, the bookwork and youngest child who often whispers to himself and considers his backpack his best friend. Oh yeah.
It's not hard to tell that the assortment of oddball characters here make one hilarious show. But what makes The Middle work so well is that the humor isn't forced nor does it come off as fake. Just about everything about The Middle seems real (Brick whispering to himself is a bit much, but we'll let that slide), as if this family of misfits lives next door to you. Or with you.
There's also no doubt that viewers may feel as if The Middle is Malcolm in the Middle 2.0. Some may even say it's a rip-off. Yes, it is about a middle-class American family of weirdoes. Yes, there is a mother who screams too much and feels underappreciated by her family. Yes, the youngest child is, for lack of a better word, "unique." And yes, they endure a plethora of misadventures that they somehow come through by the end of each episode. But there's no mistake that The Middle is able to stand on its own.
And, according to the Hollywood Reporter, ABC is bringing back The Middle for a second season. Knock on wood in hopes that they don't change their mind.
Catch The Middle at 8:30 p.m. Wednesdays on ABC.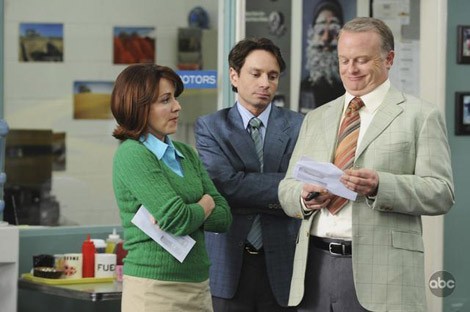 Story by TiffanyElle
Starpulse contributing writer