Why You Should Be Watching ABC's 'Castle'

With NBC having Law & Order, CBS living it up with the CSI franchise (not to mention Criminal Minds and NCIS) and FOX having surprise success with Bones, it's no shock that ABC has decided to give the crime drama genre another go after cancelling NYPD Blue in 2005. But this time, the network has decided to go with funny over gritty.
It may not be as edgy as Blue. But
Castle
, which debuted in March 2009 as a mid-season replacement, is one TV show that people should watch. Or at least put on their DVR list.
On Castle, Über rich and famous and playboy mystery novelist Richard Castle, played by Nathan Fillion (
One Life To Live
,
Desperate Housewives
), is initially called on by the NYPD to help solve a copycat murder based on his novels. While on the case, Castle gets inspiration for his next book series, Nikki Heat, from the oftentimes-abrasive NYPD detective Kate Beckett (
Stana Katic
). Using his wit and charisma, Castle then gets special permission to shadow and consult Beckett and her team on future murder cases. And, voila, we have the setup.
Anyone with any sense can see where the writers are going with this premise. The running gag that a popular novelist knows very little about real-life police procedures and protocol? Check. The romantic and sexual tension yet constant banter between Castle and Beckett? Of course. So why would anybody want to watch?
Simple:
Because it's fun. Nothing more. Nothing less.
While complex plots are saved for other TV crime dramas, Castle's appeal relies on comedy, which, believe it or not, works oh so well. The show doesn't keep viewers scratching their heads in utter confusion, thus unintentionally (or perhaps not) insulting their intelligence. With all of the crime dramas, sans
Bones
and
The Mentalist
, seen on TV today, that kind of comedy and simplicity is much needed.
Castle's charm also, undoubtedly, lies with its characters, which go beyond the main characters of Castle and Beckett.
Castle lives, in a fabulous apartment nonetheless, with his likeable 16-year-old daughter Alexis, played by newcomer Molly Quinn, and his mother Martha Rodgers, played by TV veteran Susan Sullivan of Falcon Crest and Dharma & Greg. Alexis is not your average modern teen that we've been subjected to for the past two decades. You know, the one who hates life and rebels against everything (gasp!). She's rather smart, responsible and more adult-like than her father, which somehow equals cute. And everybody likes cute.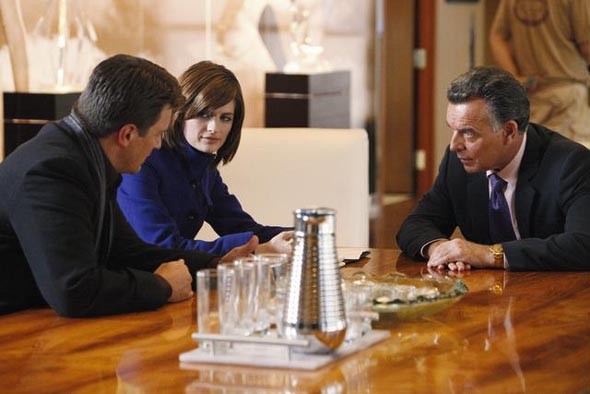 Image © ABC
Then there's Martha, an on and off Broadway actress who's the opposite of her adorable granddaughter (except for the red hair), yet comes off just as endearing.
Let's not forget about Beckett's team, detectives Javier Esposito (Jon Huretas) and Kevin Ryan (Seamus Dever). We don't know much about these characters, but the duo adds more comic relief to the show without taking the typical "Laurel and Hardy" route.
Yes, Castle is a ton of fun stretched out over an hour (45 minutes with commercials), but the show also boasts a layer (albeit thin) of drama. As the show progresses, we learn that Beckett's mother was murdered when Beckett was a teenager, which explains why Beckett became a detective and, possibly, her sometimes harsh attitude. We also learn that Castle grew up without a father, causing him to seek perfection when it comes to parenting Alexis.
As of now, it is hard to tell if Castle will have longevity, given the track records of many scripted comedies pitted against the endlessly rising popularity of reality TV. Until its fate is determined, Castle should be given a chance solely because it's a good time. And that it may possibly leave you going to bed with a smile.
Catch Castle at 10 p.m. (EST) Mondays on ABC.
Story by
TiffanyElle
Starpulse contributing writer