Why We're Gearing Up For 'Fast Five'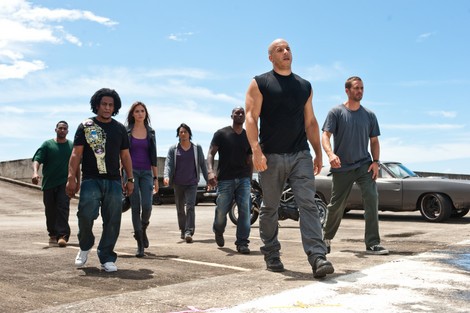 In less than a week, the fifth Fast and the Furious flick, simply titled Fast Five, will roll into theaters. I know I'll be seeing it on opening day. Though I rarely catch a movie in the theater anymore, much less on its first day, there's something about this franchise that has me addicted.
I can't believe that The Fast and the Furious was ten years ago. How time flies when you're having fun. That first film was undoubtedly fun, tapping into the subculture of street racing. It was a new world for a lot of people - myself included, considering that the sum total of my automotive knowledge is episodes of the BBC's Top Gear. As cool as the cars were (and they are; I have a replica of Dominic Toretto's Dodge Charger on my desk because I love it so much), you didn't have to be a gearhead to enjoy the movie. It was a pretty straightforward flick that wasn't going to drop any surprises, but was ridiculously fun to watch unfold. The last ten minutes alone are one of those sequences in film that I stop and watch any time I come across them.
I've always loved the characters. It's always been about Dom and Brian O'Conner to me. I just genuinely like them. Dom is an almost larger than life personality, which works perfectly with Vin Diesel's superior size. He's self-confident, charismatic, honest to a fault and protective of the people he loves. Brian might leap first and ask questions later, but isn't afraid to risk - and lose - it all for the right thing. Both of them are misjudged to a degree because of their appearance, something I can understand well. Both of them stand up when they have to. And loyalty still means something to the both of them. Most importantly, they're real to me. They're guys I would hang out with, whose traits also remind me of guys I did hang out with.
While it's true that Diesel and Paul Walker probably won't win Oscars, I enjoy their work regardless. Diesel has brains to go with the brawn; one needs only to look at his non-action work, like Boiler Room, to see what he can do.  As much as I love him in the action-oriented roles he's now known for thanks to this franchise, I wish he'd do more character-driven work. Anyone who says he can't act should see him in the late Sidney Lumet's Find Me Guilty, where he is absolutely brilliant as mobster Jackie DiNorscio. Walker is similarly dismissed for his good looks, but he's a pleasant surprise in the right role, like in The Lazarus Project or Bobby Z. I'd call myself a fan of both actors, while knowing that Dom and Brian will always be their signature roles. And with good reason: this is their sandbox. We're just playing in it.
Now, the franchise isn't perfect. The next two films in the franchise were sadly shadows of the original. 2 Fast 2 Furious is easily the weakest entry (yet for some reason, it's the one that's on TV more than any other), and it's not hard to see why. Vin Diesel is entirely absent, and I remember an interview with Paul Walker where he says he's in it because he's contractually obligated. The film threw in Eva Mendes and Chase star Cole Hauser, but they didn't do themselves any favors. As a Hauser fan, I'd say it was one of his worse performances. The less said about Mendes, the better. The only person who seems to escape relatively unscathed is Tyrese Gibson, who acquits himself pretty well considering that he's not primarily known as an actor.
And the third, The Fast and the Furious: Tokyo Drift, had next to nothing to do with either of the two films before it. While not near as overdone as 2 Fast 2 Furious, it was trying to establish a new direction with a new main character, except that it didn't work. The one thing I remember about Tokyo Drift is that there's a Diesel cameo at the very end.
If anything, the two sequels proved that what we needed all along was a follow-up done right, with all of the characters from the first flick. Universal finally got wise to this two years ago and gave us Fast & Furious. The fourth film in the series (which actually takes place before Tokyo Drift in continuity) was the one I'd been waiting for, and it was worth the wait. Not only was it great to have everyone back in the picture, but it gave them a strong plot to work with. I was never a fan of the character of Letty, but completely understood that Dom had to risk his neck to avenge her death. He was the antagonist when we met him, but now he was the hero - which made perfect sense because we'd been rooting for him all along anyway. Fast & Furious was like high-octane comfort food. It was action-packed for sure, but mostly I was just glad to have the band back together again. I saw it four different times in the theater and it never got old.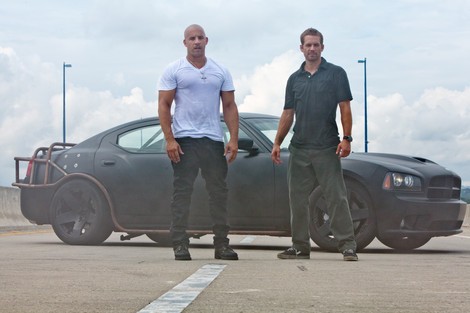 I love film as an art form that can do so much, but like everyone, I also appreciate a movie that is just a good time. When I'm in the mood for the latter, tops on my list is the Fast and the Furious franchise. There are fantastic cars and amazing driving sequences that never fail to impress. On a visual level, the films look great, even better now if you've had the opportunity to see them on Blu-Ray. I know that these films are never going to skimp on the action. Yet underneath all the sound and fury, there are characters that feel like old friends by now. I enjoy seeing them again, and I want to be a part of whatever they've got going on, because I know it's going to be exciting.
Now I'm waiting with bated breath for Fast Five. If it's anything like Fast & Furious - which I hope it will be, being that it involves the same director and the right cast - it's going to be just as awesome. I've had the date circled on my calendar, and I'm counting down the days. Just a week left.
Who else is coming along for the ride?