Why USA Shouldn't Burst 'Fairly Legal's' Bubble
Given its success with original series, USA greenlit quite a few not so long ago - and now, there's not room for all of them. Reports suggest that four of the cable net's more recent shows are in danger of cancellation: Fairly Legal, Necessary Roughness, Common Law and Political Animals.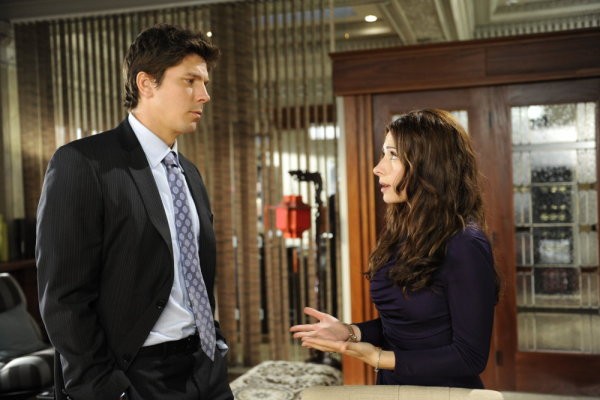 Of the four, it's Fairly Legal that it would be the biggest shame to lose. It's a not that uncommon case of a series that didn't find itself right away, and this one is on the verge of doing so. While it's understandable how it ended up on the bubble, the show has plenty of potential and a charismatic ensemble cast that would be missed on the small screen.
Sarah Shahi has shown that she can carry a series; the only real question with her is why someone didn't give her a starring vehicle earlier than this. Her character Kate Reed has been held back by an overemphasis on her quirks and romantic subplots, but season two ended with Kate seemingly putting the latter to rest. Season three would be the perfect opportunity to show us a different side of Kate that anyone who watched her with Damian Lewis in NBC's Life knows Shahi is more than capable of playing.
Michael Trucco has long been deserving of center stage after his reliable supporting performances in shows like One Tree Hill and Battlestar Galactica, and as a regular on Fairly Legal, he's proven that he's the show's strongest asset. Of the entire cast, he's the one who's made the most out of what he's given. Trucco's Justin Patrick keeps the show grounded, and in the sophomore run he finally got his own storyline, where he flourished. Given the end of the second season, it would be a true waste of a vastly underappreciated actor if we didn't have the chance to see Justin move forward on his own both personally and professionally, where Trucco is sure to be even better. Here's an actor I absolutely do not want to lose the ability to enjoy each week.
Then there's the ridiculously charismatic Ryan Johnson, who joined the cast in the second season; the show has barely scratched the surface with him. While it got plenty of mileage out of Johnson's Ben Grogan being the male counterpart to - and love interest for - Kate, given that the actor himself is disarmingly hilarious, Johnson is even better when he's allowed to get serious. We saw aspects of his character that hinted at a lot more. This also holds true for Virginia Williams, whose Lauren Reed went from being merely Kate's in-house adversary in season one to someone we got to know better in season two. We can't drop these characters when it feels as if we've only got half the picture.
That statement is even more true when applied to the show itself. Given a stronger creative direction, it's entirely possible that Fairly Legal could emerge to be a success in the vein of USA's more lighthearted series such as Psych. We've watched the show try to find itself practically since it started. It changed showrunners between seasons. It said goodbye to old faces such as the horribly underused Ethan Embry as Kate's brother Spencer. It added new characters like Ben and a love interest for Lauren (played by Lloyd Owen). It even tried to introduce a bit of mythology with a subplot about Kate's late father and a mysterious man (Richard Dean Anderson).
It's as if you can see the creative team trying to find that one thing that's going to make the show click. They're not the first writers to have a good idea and just not be able to get it out the right way. For example, the second season of The Wire is considered by some to be its weakest, yet if HBO had pulled the plug we'd have missed another three cycles of amazing television. Law & Order truly came into its own when Jerry Orbach joined that cast in its third season. Sometimes shows are great right away, and other times, they become great.
If the Fairly Legal writers did anything with season two, they convinced us of where these characters can go, and they should have a chance to show us what happens next, if only because they've got a cast that could turn this season into a breakout one with the right material.
USA has shown a lot of patience in the past with letting programming grow, and Fairly Legal could truly benefit from that goodwill right now. It's in prime position to develop into a stronger show. Maybe it won't be a hit on the level of Suits or White Collar, but it at least deserves a shot to find that out. Hopefully, USA will grant Fairly Legal a reprieve.
For more from Brittany Frederick, visit my Starpulse writer page and follow me on Twitter (@tvbrittanyf).  
(c)2012 Brittany Frederick/Digital Airwaves. Appears at Starpulse with permission. All rights reserved. No reproduction permitted.