Why 'Suits' Star Gabriel Macht Should Be An Emmy Contender
When Emmy nominations are announced on July 19, there's one name I would love to see on the ballot: Suits leading man Gabriel Macht.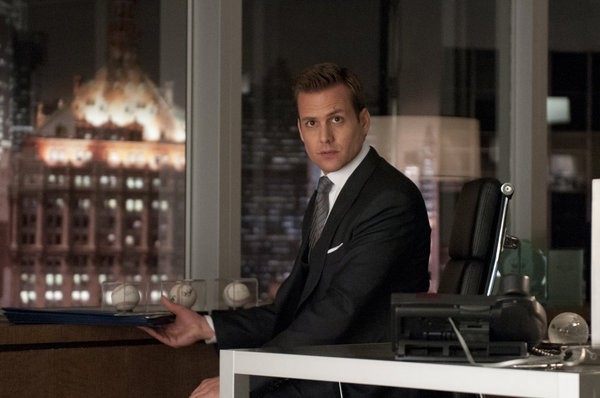 The Outstanding Lead Actor in a Drama Series category is the toughest of all Emmy divisions. It'll take a lot to break in amongst recurring nominees like Mad Men's Jon Hamm, House's Hugh Laurie, and Justified's Timothy Olyphant. I'm not saying those gentlemen don't deserve their nominations; Olyphant remains one of my favorite actors. But I firmly believe that come July 19, Macht should be taking his place among them, because he has excelled from the first frame of Suits to the last.
Where to start? There's that intangible "it" factor about him, in spades. It has nothing to do with the Tom Ford suits that Harvey Specter gets to wear. When Macht is in a scene, I am compelled to pay attention to him, whether he's in the foreground or not. When he talks, I listen. He has a screen presence that is palpably felt.
He took a role that, on paper, could have been so very paint-by-numbers - the hotshot protagonist who can be difficult and cold but ultimately has a heart - and elevated it into something unique. While Harvey is arrogant, he never stops being someone we care about. He may be the best there is at what he does, but unlike many other TV characters about whom that's said, we actually believe that about him, because Macht convinces us with his performance.
And no matter what Harvey might appear to be, there has always been that extra something that Macht brings to him, whether it's a look in his eyes or something as subtle as his body language, that shows us there's always something else beneath the surface. The season's final two episodes ("Rules of the Game" and "Dogfight") have him excellently portraying Harvey's inner turmoil, enough for us to get into his head and heart, without having to show it to us. I can't predict Harvey, can't entirely figure him out, and I don't want to. I love that inability to pin him down and the complexity it represents.
While there are many good and even great actors on television, some of them work better within the medium than others. There's a select number of them that understand the pacing and challenge of the small screen, and seize the opportunity it provides to truly develop a character. Macht is one of those people. The Harvey we met in the series premiere is distinctly different from the one we see in the season finale, but is still true to who Harvey is fundamentally. It has been such a wonderful experience to discover Harvey and watch him grow, and I find myself looking forward to learning even more about him in season two, and hopefully three, four, and five. I want to take that journey with him. That's pretty good for an actor who'd only had one previous leading role on TV more than a decade ago. You'd never know it by how well Macht plays this part.
That points directly to the major reason why Macht is such a phenomenal talent. With the role of Harvey Specter, Macht has done what very few television actors have accomplished: he's found that perfect union between actor and character, where you stop seeing the actor and you couldn't imagine anyone else playing the character. I've seen that happen maybe five times over the two decades I've been watching TV.
What makes that more impressive is that, as he stated in a recent interview, he and Harvey are very different from one another. To know that Macht has crafted a character that doesn't seem like a character and done it stepping away from his comfort zone? That's more than worthy of critical recognition. That's made me re-evaluate how I consider every other actor on television.
And though this counts for nothing when it comes to awards, having had the pleasure of making his acquaintance, I have the utmost respect for him. I've listened to him talk about his process and learned how much thought and effort he puts into playing Harvey. I've been lucky to meet him and found out that he's a true gentleman, who is sweet and funny and just a joy to converse with. There's a part of me that wants to see his hard work and good heart acknowledged, sappy as that may be. It's not as if he doesn't otherwise deserve it; I can't think of anyone who deserves it more.
I can't guarantee that Macht will get an Emmy nomination. But were it up to me, I'd hand him the award right now.
Suits returns this Thursday, June 14 at 10 PM ET/PT on USA.
You can learn more about Gabriel Macht by reading our in-depth interview from season one of Suits and following him on Twitter (@GabrielMacht). For more from Brittany Frederick, visit my Starpulse writer page and follow me on Twitter (@tvbrittanyf).
(c)2012 Brittany Frederick/Digital Airwaves. Appears at Starpulse with permission. All rights reserved. No reproduction permitted.