Why 'Southland' Is Must-See TV

In the past few seasons for network TV, there have been a few shows that were destined for greatness from their very first pilot episodes:
Arrested Development
,
Desperate Housewives
,
Friday Night Lights
,
Heroes
,
Lost
and
The Office
.
That's it, that's the list. And of those six shows, one was cancelled due to low ratings ("Arrested Development"), one is on life-support ("Friday Night Lights"), and two were in danger after having lost their way - no pun intended, but "Lost" managed to find its way back while "Heroes" is struggling. "Housewives" still has its foundation of viewers but is beginning to show a little wear and tear. That just leaves "The Office" to hold up the roof that is quality network planning.
After getting hammered by network's only rival - cable - by truly legendary programming that includes the likes of
The Sopranos
,
The Wire
,
Deadwood
,
Rescue Me
and
Dexter
, the folks at free-tee-vee needed to find a way back in the game.
This is why I am so delighted to get behind a show on network TV and bludgeon you to death about how good it is. "
Southland
" IS THAT GOOD. I haven't been this excited about a pilot since that very first episode of "Friday Night Lights" a few years ago. When you have a scripted show that introduces multi-faced, real-life character with anti-hero type flaws, I'm ready to invest that hour of my life in their fates for as long as the powers that be want to have them on the air.
The people who pushed "Southland" were smart to revolve all the commercial spots around
Ryan Atwood
- er, I mean
Benjamin McKenzie
- even though the show is very much an ensemble affair a la
ER
.
Fans of
The O.C.
should be more than happy to step up and check out this show. The pilot episode of "Southland" was very similar to the pilot of "The O.C." in that we have this kid (McKenzie) who shows up to this situation and, while being largely unequipped to assimilate quickly, at least possess a personality strong enough to persevere through its many challenges.
In watching this pilot I was somewhat convinced that I was watching that "O.C." character, a little older now and in a different phase of his life. McKenzie with the same personalities that defined Ryan Atwood isn't altogether a bad thing, and for the show's producers I think they had banked on the fact that in approaching his role that way viewers would quickly connect with him. But Ben (that is also his name on the show) is more mature now, and more restrained, quite possibly because now he possesses a firearm.
As for the rest of the cast, the show is ridiculously loaded with fire. One detective balances his highly stressful job with a wife who blatantly wants a divorce, another detective, played by
Regina King
(who supplies the priceless voice of Riley on Cartoon Network's
The Boondocks
) seems to have a little too much empathy to be taken as a hard-nosed cop, and McKenzie's veteran partner (an incredible
Michael Cudlitz
) is phenomenal as a jaded LAPD officer who is both the reason that people hate cops and the reason that cops can be so good at what they do. NBC certainly hit the money with this one, and it is indeed Must See TV.
My Grade: A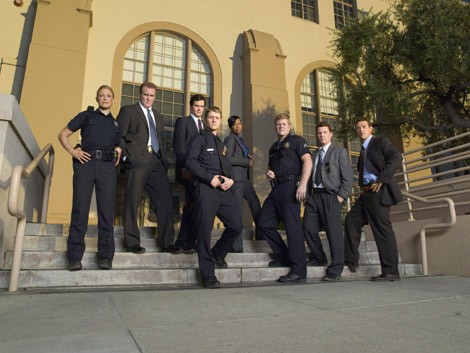 Story by
Simbarashe
Starpulse contributing writer