Why Is 'American Idol' Struggling To Find New Judges?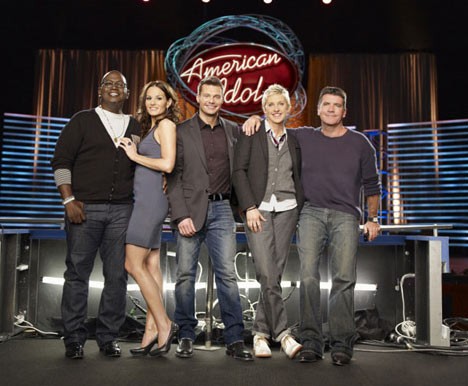 Some critics say that "American Idol" is a halfway-sunk ship -- considering last season's ratings dip, underwhelming talent and Simon Cowell's exit -- and the recent scramble to revamp the judging panel might be the final hole in the hull.
Jennifer Lopez, who was reportedly a frontrunner to replace Ellen Degeneres, confirmed this week that she was no longer being considered.  Shania Twain, Mariah Carey, Bret Michaels and Harry Connick, Jr.'s names were also being tossed around, but nothing came to fruition.  Why is the ratings behemoth -- dubbed by other networks as the "Death Star" -- having such a tough time finding replacement judges?
Here's the thing.  Whether you loved Paula Abdul and her rambling warbles, walrus-clapping and crying spells or not, she was the glue that held the show together.  In addition to the sideshow effect she provided, Abdul's empathy and histrionics complemented Cowell's calculated scathe.  
Paula Abdul and Simon Cowell kiss:
And like newly-returned "Idol" Executive Producer Nigel Lythgoe has said, chemistry isn't something you can teach.  In fact, TMZ reports that "Idol" execs took Cowell, Abdul and Randy Jackson out to several dinners before the show launched.  The site even alleges that Lythgoe took Cowell and Jackson to strip clubs to see how they'd interact with each other.  (What disgruntled employees they must be.)
With such an emphasis on judge chemistry, producer pickiness may be slowing the selection process.  Not to mention the fact that there was zero magic between last year's awkward lineup of Cowell, Jackson, Degeneres and Kara DioGuardi.  Degeneres proved useless as an effective critic (even her jokes were lame) and America was less-than-enamored with DioGuardi, which might be why she isn't certain she still has the job.
Another reason "Idol" might be struggling to find new judges is its weakened status as TV's heaviest hitter.  It's still #1, but last season's finale attracted the lowest numbers since season 1.  Do potential stars see the show going gently into that good night, and that's why no one's committing?  "Idol" will also have to deal with Cowell's new project, the similarly-styled "The X Factor," which has proven immensely popular in the UK.  It'll also have the benefit of having novelty, while "Idol's" has pretty much worn off.
Or perhaps it's the show's growing irrelevance to the music industry.  The last three winners -- David Cook, Kris Allen and Lee DeWyze -- are all vaguely rock-ish, completely forgettable singer/songwriters who've failed to deliver consistent Billboard success.  Why would someone like Mariah Carey tarnish her career with a job that risks her credibility?  (She's already weathered that storm with "Glitter," anyways.)
Aerosmith's Steven Tyler and pop star Jessica Simpson are rumored to have been the celebs to sign up for the gig, some sources report.  But "Idol" producers best start making these rumors reality, as season 10 auditions are slated to kick off in less than a month.
"Idol" execs passed on J-Lo: