Why Does Jesse Heiman, Who Made Out With Bar Refaeli In Go Daddy's Super Bowl Ad, Look So Familiar?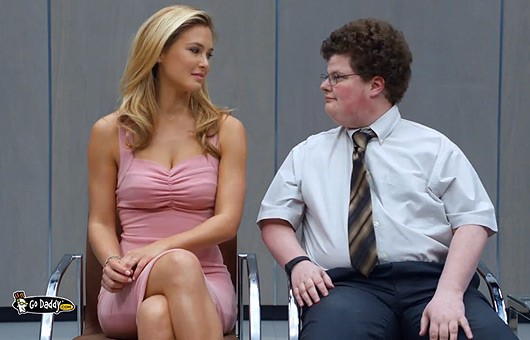 It's a good bet you've never heard of actor Jesse Heiman before, but if his face looks familiar it's because you have seen him somewhere -- almost everywhere, actually -- and we're not just talking about that Super Bowl XLVII Go Daddy commercial where he got to make out with Israel's hottest export, Bar Refaeli

While the commercial is doing quite a job making Heiman a household name, chances are you've seen him in one of his starring roles as "Nerd," "Office Worker," "Stumbling Student," or "Hot Dog Buying Guy."

The 34-year-old (yes, seriously) actor has had bit parts in every genre of TV series and several successful films; including NCIS, The Big Bang Theory, Entourage, My Name Is Earl, Arrested Development, Reno 911, Parks and Recreation, Bones, Glee, How I Met Your Mother, Transformers: Dark Of The Moon, The Social Network, Old School, and American Pie 2.

And that's just a few of them.

But it was Go Daddy.com's Super Bowl ad that put Heiman, usually blending into the background, in the spotlight; making millions of men jealous around the world.

After the ad aired during the big game Refaeli tweeted,
OMG. 100 million people saw my @godaddy Super Bowl ad w/ @danicapatrick! What do you think of #TheKiss? x.co/slsn

— Bar Refaeli (@BarRefaeli) February 4, 2013

Original Go Daddy Girl Candice Michelle even called Jesse on Sunday.
@divacandicem The Original Go Daddy Girl Candice Michelle just called me to welcome me into the @godaddy family!!!

— Jesse Heiman(@JesseHeiman) February 4, 2013

Speaking of that kiss, Jesse told The Today Show on Friday that it took "over 45" takes to get it just right.

Check out two minutes of clips from shows that Jesse's been an extra in below...

 
  Check out the original, uncensored version of the Go Daddy Super Bowl commercial...