Why Armie Hammer Should Be Zack Snyder's 'Superman'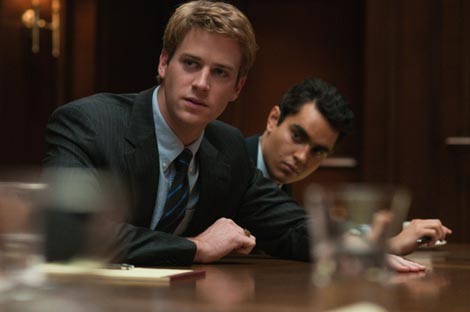 With all the excitement surrounding the potential announcement of Darren Aronofsky directing the next "Wolverine" movie, fanboys and bloggers have lost sight of the fact that Zack Snyder's "Superman" reboot still doesn't have an actor to step into the legendary blue tights. Snyder has already stated that he plans on focusing on the early years of Superman/Clark Kent and does not want to have any connection to the other "Superman" movies (sorry, Brandon Routh).
Snyder, being a very brave and risk-taking filmmaker, is likely to cast someone audiences would never expect, but the actor who would perfectly fit into iconic role is Armie Hammer whose breakthrough performance in "The Social Network" is going to open up dozens of projects to the young actor. Snyder's "Superman" project, however, would be the perfect fit between an actor and a part.
Though Jon Hamm has had his name attached to the role since the reboot was announced, there is just no way the 39-year-old actor could fit the image that Snyder is apparently looking for. So, why is Hammer, who stunned audiences in his performance as Cameron and Tyler Winklevoss, ideal for potentially the role of a lifetime? Here are a few reasons:
Presence
Hammer, at 6'5", perfectly embodies the massive size and commanding presence that Superman has always demanded. In "The Social Network," he was able to carry himself with poise and confidence as the spoiled Winklevii but was also able to tailor his performances to convey the twins' true Neanderthal nature brewing beneath the surface of their Ivy League education.
Voice
Brandon Routh was an embarrassing, and hopefully forgettable, excuse for Superman because of his plastic performance and flaccid delivery. Christopher Reeve was able to carry the role in the 80s mainly due to his very calming and reassuring attitude and voice. Anyone who has seen Hammer in "The Social Network" will remember his deep, baritone voice that never lapses into monotone as either twin but expertly conveys each character's emotions and frustrations.
Talent
Most audiences were shocked to find out that Hammer played both Cameron and Tyler Winklevoss (with the help of body-double Josh Pence) and that he didn't have a twin brother. This is due to Hammer's delightful performance as each brother. One brother is calm, mature and respectful; the other brother is impatient, impulsive and brutish. Had the characters received more screen time, there is no doubt audiences could quickly discern which brother was which due to Hammer's uncanny acting skills.
Personality
Having been thrust into the spotlight practically overnight, Hammer has given plenty of interviews since the opening of "The Social Network." In each interview, the actor seems genuine, humble and engaging. This would be a huge benefit for Snyder's take on the mythology which has been surrounded by pessimism and ill feelings. Hammer comes across as likable which is key to the Clark Kent side of the Superman character. If audiences don't like the actor, they will easily get bored with his bumbling antics and awkward attempts at appearing normal.
Snyder should seriously consider Hammer for a variety of reasons. Plus, a blonde James Bond has worked out well for the 007 franchise, so why not a blonde Superman for the struggling DC superhero?