Why Aren't You Watching 'Pawn Stars?'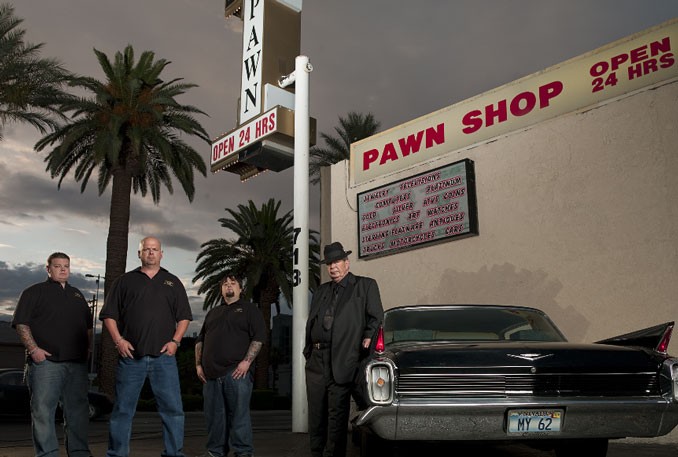 When "Antiques Road Show" premiered in America thirteen years ago, it astoundingly became something of a phenomenon. The idea of attaching a monetary figure to all that old junk people collected made for some interesting, if not particularly compelling, television. The problem was, of course, no one ever got to sell their antiques as the show only appraised, and never purchased items or put them up for auction. Also, there were only so many antique vases a fellah could see before wondering what else was on. Enter "Pawn Stars".
Following the proprietors of the family owned "Gold & Silver" pawn shop in downtown Las Vegas. "Pawn Stars" takes the appraisal element of "Antiques Road show" and mixes it with a rock n roll vibe, some curse words, a cast of characters only Las Vegas could provide, and most importantly, shows us the money.
And here's the kicker, it's not just antiques. The beauty of "Pawn Stars" is that Rick and his family literally buy anything they can turn a profit on. They've bought helicopters, hot air balloons, a canon that shoots bowling balls, and at one point, almost bought sunken treasure.
  Pawn Stars manages to be both entertaining and educational, and is an edutainment appetizer sampler. It's got a little bit about profit margin, a little bit about how to maintain antique guns, a healthy helping of swords, daggers, and classic cars, a dash of humor and the bizzare, and may even teach you a thing or two about the business of running a business.
And, As something of a bonus, because of the popularity of "Pawn Stars", several copy cat shows have sprung up."Pawn Queens" on TLC is about two women in Naperville, IL, and "Hardcore Pawn" on TruTV takes the "Pawn Stars" format to Detroit with a bit more over the top action and yelling. Both shows are good and definitely bring a different enough flavor to the proceedings to make them worthwhile in their own right.  
If you're the kind of person who enjoys learning, shows about business, or just plain likes watching edutainment television such as "No Reservations with Anthony Bourdain" "Dirty Jobs" or "Antiques Road Show", Pawn Stars is for you and your family.  
So, seriously, why aren't you watching Pawn Stars?
Pawn Stars Airs Sundays at 10PM on the History Channel, and full episodes can be found here