Why Are So Many Rappers Acting?

This isn't to bash rappers, nor is it to say that these artists aren't allowed to pursue different paths in Hollywood. With so many prominent rappers acquiring roles in big movies though, it begs the question-why?
It's not as if rappers in movies are a new thing. In 1991,
Mario Van Peebles
cast
Ice-T
as a cop in "
New Jack City
," a film that is beloved by many. That same year, director
John Singleton
cast
Ice Cube
as a Los Angeles gangbanger in "
Boyz N the Hood
." These two movies helped open the floodgates for rappers to enter the world of acting.
Soon,
Will Smith
went from rapping about "Summertime" to becoming the Fresh Prince of the summer box office.
Queen Latifah
successfully transitioned from her message of "U.N.I.T.Y" to the television series "
Living Single
" and movies such as "
Set It Off
," "
Chicago
," and "
Hairspray
."
Not every rapper is meant for a life in front of the camera, though. For every
LL Cool J
and
Ice Cube
, there's a
DMX
,
The Game
, and
Ja Rule
.
Why are rappers getting an opportunity to act in big movies with successful Hollywood actors? Why are
Common
,
T.I.
, and
RZA
acting opposite
Denzel Washington
and
Ruby Dee
in "
American Gangster
?" Why is
50 Cent
sharing the screen with
Robert De Niro
and
Al Pacino
in "
Righteous Kill
?"
Some of the reasons are easy to understand. Rappers, in many ways, are natural actors. Through their music (and music videos), they portray an image-some of it true, some of it fabricated. Nevertheless, rappers exude bravado-they make money and sell records off of machismo. While country and R&B artists may be singing about unrequited love, rappers are allowing fans into their lives by telling a very raw, passionate, and often dirty narrative regarding their life. Rap music is about pain, arrogance, and adversity-the same ingredients one must possess to become a quality actor.
Most rappers in movies, too, are cast in stereotypical roles. In "Boyz N the Hood," Ice Cube was cast as "Doughboy" soon after
NWA's
album "
Straight Outta Compton
" was charged with perpetuating a gangsta lifestyle. In 2005's "
Hustle & Flow
,"
Ludacris
gets "deep" into method acting as he portrays a rapper on the silver screen.
There's also the appeal of what a rapper can contribute to a movie off-screen. The benefit of casting
DMX
opposite
Steven Seagal
and Isaiah Washington in 2001's "
Exit Wounds
" is not just that it expands the demographic of the audience, but that DMX will contribute to the soundtrack of the album. In fact, though 2002's "
8 Mile
" starring
Eminem
made over $240 million worldwide, the soundtrack of that album-which included a handful of tracks performed by Eminem like the chart topping "Lose Yourself"-went on to become the fifth best selling album of the year. There is no doubt a monetary gain is to be had when rappers are cast in films.
Musicians in movies are not just a hip hop related phenomenon, however.
Elvis Presley
went on to make thirty-one films as an actor.
Madonna
has starred in films such as "
Dick Tracy
," "
A League of Their Own
," and "
Evita
." Even
Beyonce Knowles
has seen success in films like "
The Pink Panther
" and "
Dreamgirls
."
Queen Latifah co-stars in The Secret Life of Bees - Opens October 17, 2008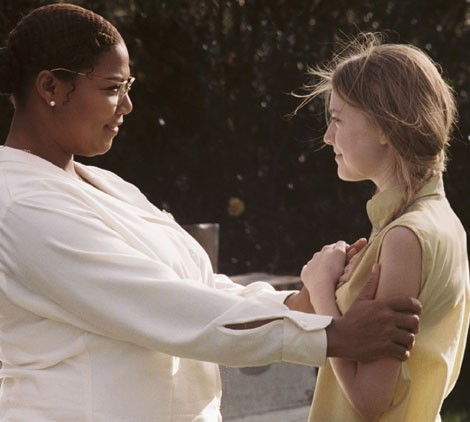 It must be stated, too, that not all rappers-turned-actors are bad. Though his career was cut short due to his untimely death,
Tupac Shakur's
acting ability had serious potential.
Mos Def
, in everything from "
The Italian Job
" to "
Bamboozled
" has been a joy to watch. And though his acting ability is not up to par yet,
Sean "P.Diddy" Combs
' passion to become a dramatic actor is evident in movies such as "
Monster's Ball
" and the 2008 ABC production of "
A Raisin in the Sun
."
The massive migration of rappers moving towards acting is a bit concerning, though. Rappers make music-they aren't trained actors. The idea that
Will.I.Am
is starring in the upcoming "
X-Men Origins: Wolverine
" film as a teleporting mutant is a cause for anxiety. Just because "
Bow Wow
" can rap about being "eighteen" and "making more than your dad" on the track "Fresh Azimiz" doesn't mean that he's at all qualified to act in movies.
The one noticeable, sad fact is that producers in Hollywood are taking roles away from capable, acting talent-mostly African-American actors-and giving them to rappers. The idea that T.I. is more qualified to play the role of the cousin to Frank Lucas in "American Gangster" over a trained black actor is preposterous. Should 50 Cent really be honing his acting chops opposite De Niro and Pacino when a talented black actor could've landed this breakout role instead? With a dearth of new black acting talent in Hollywood, these casting decisions by movie producers is an indictment of not just the perceptions of who minorities are, but who many believe should represent them in major motion pictures.
RZA, Common & T.I discuss why they are "American Gangster"
It's interesting to note that in other areas of music, artists becoming actors is not as widely seen. When they do make the transition, though, it's not merely as a bit part in a film. In fact, musician
Rob Zombie
, famous for founding the heavy metal band
White Zombie
, has found success in film behind the camera. He wrote and directed the film "
The Devil's Rejects
" as well as the 2007 film "
Halloween
."
Fred Durst
, who founded the American nu metal band
Limp Bizkit
in the mid 1990's, recently has transitioned into directing as well. His second film, "
The Longshots
," stars
Ice Cube
and
Keke Palmer
and was just released into theaters.
The trend of rappers starring in movies will not change anytime soon-there is too much money to be made by both the movie studios and artists themselves. Hopefully more qualified actors will get the opportunity to showcase their talents. If rappers do barrage audiences with their presence on screen for years to come, hopefully they mature and become successful enough where they can transition from actors to directors, producers, and even decision making executives.
Story by
Michael Langston Moore
Starpulse contributing writer
Related Article:
-
Three Rappers Turned Successful Hollywood Actors