Who's Cuter - Justin Bieber Or Beethoven The Beluga Whale?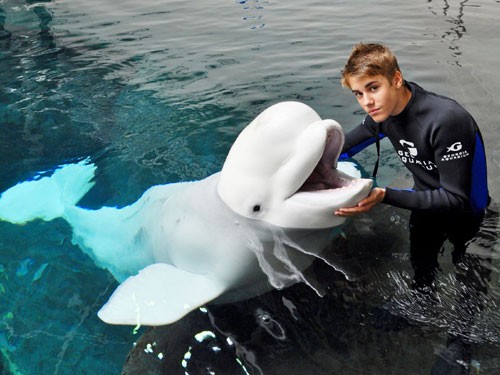 A wet suit wearing Justin Bieber got cozy with a beluga whale while spending the afternoon at Atlanta's Georgia Aquarium last week. The 1700-lb male whale was named Beethoven. The sea creature chirped and made noises for the pop star.
Earlier this week Bieber talked about his desire to get married and have children--in a few years. He told Women's Wear Daily, "By 25 or 26, I want to see myself, like, married or start looking for a family (sic). I want to be a young dad."
Meanwhile, his girlfriend Selena Gomez recently performed in concert sporting Justin's name on her wrist accompanied with a little heart.  But the ink was temporary.