Whoopi Goldberg To Guest Star On 'The Middle'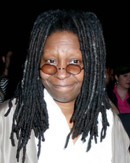 Oscar winner Whoopi Goldberg has landed a guest spot on hit TV comedy The Middle after cornering star Patricia Heaton to ask for a role.

Goldberg recently interviewed Heaton on hit talk show The View, on which she is a co-host, and she took advantage of the opportunity to campaign for a cameo on one of her favorite programs.

Heaton took the request to the show's producers - and they created a character especially for Goldberg.

The Ghost actress took a break from The View to film The Middle last week, and she's delighted to have scored the job.

Explaining her absence on the daytime talk show on Monday, Goldberg said, "I was in Los Angeles. I did a little guest spot because I trapped Patricia Heaton in a corner and said, 'Listen, if you ever put the daughter in school, I wanna be her guidance counselor.' She said, 'OK' and she wrote to the people (producers) and they wrote back and said OK!"

And Goldberg reveals her character is a geeky, older version of Heaton's nerdy onscreen daughter Sue Heck, played by Eden Sher.

She added, "We are dressed exactly alike. If she were older, this is what she would look like and it's me. I have braces on and... I'm so happy that I did it because I love the show."

Goldberg's cameo will air this spring.