Who Will Win 'Dancing With The Stars' Season 11?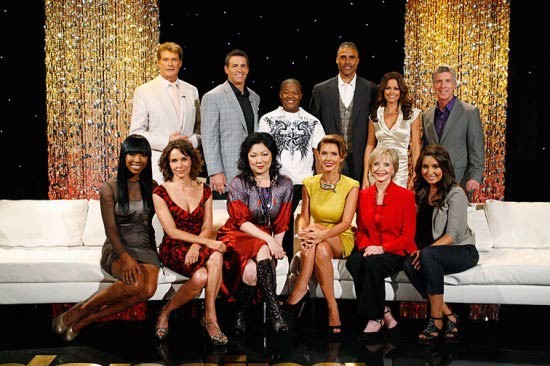 Six male and six female celebrities have been chosen for the eleventh season of Dancing with the Stars. Yes, there have already been 10 seasons of DWTS - perhaps it's time to have a tournament of champions? 
So, who's going to win this year? Let's break down the chances for each contestant.
Audrina Patridge: Audrina is most likely going to be the star that shows the most skin this season. While it will help her with the male audience, she will need to show she has dancing chops to get in the top 5.
Brandy: Brandy has been out of the public's spotlight for a long time, but don't count her out for that. Her musical career involved a lot of dancing, so expect her to bring skills to the table - although not to the level of Nicole Scherzinger. 
David Hasselhoff: Maybe he will get votes out of irony (or Germany). David definitely has a personality for network television, but he can only talk his way into votes for so long between dances. 
Florence Henderson: Cloris Leachman lasted 6 weeks, so don't underestimate the mature ladies. Henderson arguably has more nostalgic viewers behind her and a Broadway background, so she could stick around for a while. 
Jennifer Grey: Barring an injury, Grey has to be one of the favorites - unless people aren't reminded constantly of who she is, considering her drastic change in appearance since Dirty Dancing. The show debuts one day after the anniversary of Patrick Swayze's death; we'll see if Grey can match sympathy with skill.
Kurt Warner: NFL players have done very well in DWTS, from running backs (Emmitt Smith) to defensive linemen (Warren Sapp). Warner is a clean-cut guy that dodged any semblance of controversy during his playing career, and as long as he isn't a stiff board on the floor he has got a shot.
Kyle Massey: Kyle is a Disney star, and not even one of the top Disney stars. Since we're explaining who he is, one must figure he is a long shot at best. He needs a tween audience to tune in and vote - we'll see if Disney campaigns for him on their channels.
Margaret Cho: A prime candidate... to be the first voted out. Or is she? There is a passionate Cho fan base out there, and they are quick to point out her history in burlesque. If her fans show up and vote, she could hop a few spots - outside of that, she needs to wow the judges.
Michael Bolton: Michael Bolton will mostly likely be the modern version of Samson: without his long, glorious 90s hair he doesn't have the strength to dance! With Hoff around stealing votes from fans of the same era, Bolton has an outside chance at best.
Mike 'The Situation' Sorrentino: This could be interesting. If he can actually dance, he can go far - but we don't think there is a lot of crossover between Jersey Shore and DWTS audiences. He could very easily go home first with a wooden cha-cha.
Bristol Palin: A young single mother that has had a roller coaster life in the limelight, Bristol could nab a few sympathy votes - and nods from fans of her mother Sarah. There's no information on her dancing background, so she could flub it on the floor and leave early.
Rick Fox: Rick has done well on TV on various shows and will be very comfortable mugging for the camera. He's also in the age-range for a good portion of the audience. If he can show he can dance the first day, he will go very far.
Our choice to win? Jennifer Grey! First cut? The Situation!
So, who do you think will win? More importantly, who do you think will be a total failure and get cut first?