Who Will Be The Ultimate Survivor Of 'Survivor: Philippines' 2012?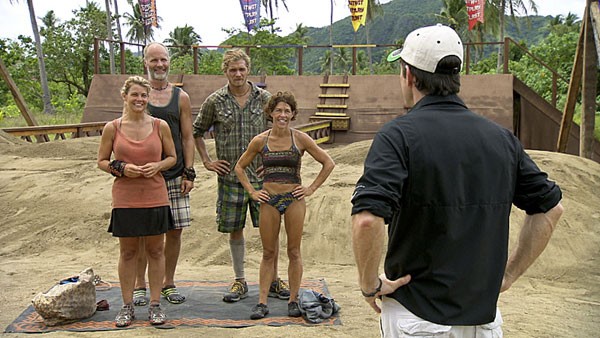 CBS will air the two hour season finale of Survivor: Philippines 2012 on Sunday, December 16. The Final Four include Lisa Whelchel, Michael Skupin, Malcolm Freberg and Denise Stapley. Who will win the title of Ultimate Survivor?
The four most likeable players of the season have wrangled and wrestled their way to the finale. Evenly split, there are two males, and two females, two former Tandang members, and two former Matsing's.
Lisa Whelchel (48), was a teenaged TV star as "Blair" in "The Facts of Life." Lisa began the series as the older woman of the tribe, ostracized and ridiculed, and the following episodes all seemed to have at least one weeping scene, as she begged for advice from Jonathan Penner and Skupin. And yet, "the church lady" hatched plan after plan to oust Malcolm, a supporter, from the game. Lisa's claims to want to play a fair and honorable game were challenged when she chose to keep Abi over Carter, since she knew a win was more likely against the unlikable Abi.
Michael Skupin (50,) returning player (Survivor: The Australian Outback), has to have been the most consistently accident prone player of any season to date. Every episode has had its Skupin accident sighting, from Abi's coconut 'accidentally' smacking him in the face, to getting head-butted by an enormous whale shark. Skupin has been loyal to his allies, and played a consistent game.
Denise Stapley (41,) certified sex therapist and licensed mental health counselor, has kept a low profile, while displaying a strong physical game and being a hard-worker in the camp.  Always fair and patient, the tiny bundle of energy and muscle is liked by everyone (except Abi), and has shown an uncanny ability to soldier through, even almost winning an Immunity Challenge despite a painful allergic reaction to a bite on her neck. For the win, it's almost certainly between Denise and Malcolm.
Strong and affable Malcolm Freberg (25,) is the only player who could conceivably beat Denise. Malcolm has the whole Survivor package; young, fit, long haired, and with a lovely smile, Malcolm has both the men and women on his side. He's been a strong contender for the title from the start. He dominates physically, has played a strong social game, and has made no enemies on the jury. If he loses the last immunity challenge, Denise will win the million dollars.
This could be the most exciting end game of Survivor in years, as these four worthy opponents battle their way to the end. It's either Malcolm or Denise for the win, with the other surely being a contender for  Best Player of the Game.
Don't' miss the finale – this Sunday!