Who The Heck Is... Eddie Marsan?

They don't get top billing. You know the face but can't quite place the name. Though they toil in the shadows of more famous leads, to imply that character actors merely 'support' is to vastly underrate the contributions of many remarkable entertainers: Often, it is the performance of lesser-knowns that leaps from screens large and small into the hearts of an audience, leaving them with both a lasting impression and a question that begs to be answered: 'Who the heck is that?'
As a misunderstood 19th-century rent-collector called Pancks, British actor
Eddie Marsan
sputters and guffaws his way through the PBS production of Charles Dickens' Little Dorrit in a performance so unexpected and brilliant, one is left underwhelmed whenever he vanishes from frame. Standing 5'8, this unremarkable-looking thespian masterfully manages to steal the epic 'Masterpiece' production from dozens of fellow ensemble actors; he's so singularly magnetizing, it's not absurd to feel the miniseries should simply be retitled 'Pancks'.
Beyond impressive, this 40-something bloke from Bethnall Green, East London: So why is his not yet a household name? British audiences have been in the know for a while: Marsan displayed his considerable comic chops as a bungling bank robber on the popular 1990's BBC sitcom "Game On." Since that time, he has managed to make notable appearances in - count 'em - over 60 film and television productions in the states and abroad. He's worked with some of the best, acting under the direction of directors
Martin Scorsese
(
Gangs of New York
),
Alejandro Gonzalez Inarritu
(
21 Grams
), Terrence Malick (
The New World
) and
Michael Mann
(Miami Vice), while holding his own opposite costars like
Daniel Day Lewis
,
Sean Penn
,
Edward Norton
,
Natalie Portman
,
Tom Cruise
and
Will Smith
. Trust us, you've seen him: He's done it all from the drama of Vera Drake and mythology of
Beowulf & Grendel
, to the blockbuster bombast of
Hancock
.
Despite taking home well-deserved awards - including London Film Critics Association and National Society of Film Critics awards for his heartbreaking turn as misanthropic driving instructor Scott in Mike Leigh's 2008 indie
Happy-Go-Lucky
(run, don't walk to the nearest video store) - Marsan is something of an also-ran when it comes to awards. Costars like
Imelda Staunton
(Nominated, Best Actress Academy Award for
Vera Drake
) and
Sally Hawkins
, who took home a Golden Globe for Happy-Go-Lucky, have received accolades in portrayals that benefited from his own. We expect this to change.
What's next for Marsan? A turn as the prickly Inspector Lestrade in the highly anticipated Guy Ritchie-helmed
Sherlock Holmes
(opposite
Robert Downey Jr.
and
Jude Law
) due in theaters the day after Christmas.
So, who the heck is this guy?
"When I was a kid," Marsan remarked in an interview given last year, "A lot of young actors I knew would watch On the Waterfront and study
Marlon Brando's
performance, but I was always watching
Rod Steiger
, thinking that this guy is the real deal."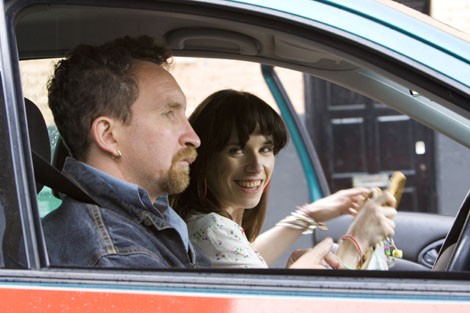 Eddie Marsan - Happy-Go-Lucky © Miramax Films
Eddie Marsan is also the real deal: He may not be in the foreground, but he's certainly no wallflower.
Story by
Shannon Peace
Starpulse contributing writer