Who Shot Fitz? Tony Goldwyn Talks About The Shocking 'Scandal' Cliffhanger
Who shot President Fitzgerald Grant?
That's the burning question on the minds of Scandal fans, who were stunned when last Thursday's episode closed with the Chief Executive being wounded as he arrived at his birthday party. As the audience waits for tonight's installment to see what happens next, actor Tony Goldwyn joined Digital Airwaves for a chat about what it was like for him to film the bold plot twist, and what it means for Fitz. SPOILER ALERT!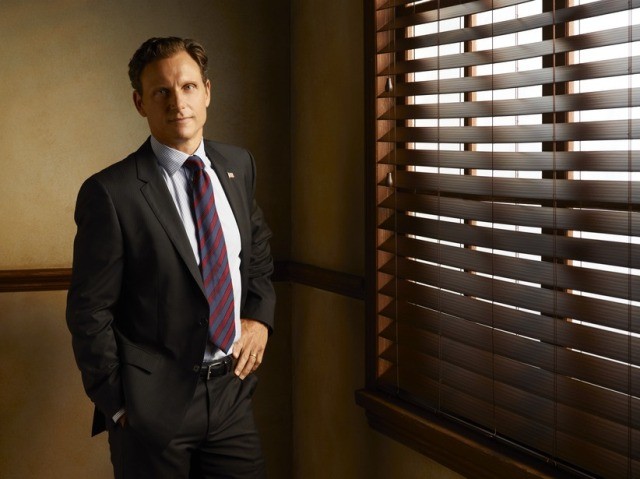 "I think I found out when I turned the page and said, 'Oh my God,'" said the actor, who added that he has "no idea" who the shooter is. "I thought it was a great choice."
If fans were reeling over Fitz's peril, Goldwyn was never in fear that he might be filming his last Scandal episode. "That happened to me more last year," he explained. "In the first season, there was a moment where the sex tape emerges and Cyrus plays the tape for me in the office. When I read about that, I thought, 'Oh, they're writing me out of the show.'"
Despite having confidence in his future with the series, when it came time for him to film the pivotal scene, "It was very weird." he confided. "I've actually died a lot in movies but, the way that we shot that - which you got a taste of at the end of the episode but you'll get a bigger taste of - it was beautifully staged. It was just very realistic. Getting grabbed by the Secret Service and being dragged back to the car, it was very bizarre."
Fans shouldn't expect Fitz to bounce right back from taking four bullets, either. Goldwyn revealed that the shooting "has an impact" as the show deals with "the ongoing question of who did it and why did they do it."
Even once he's on the mend physically, the actor doesn't see attempted murder being his character's only problem. "I doubt it," he said when asked if things would get any easier for Fitz. "Let's just say that the emotional torment that [series creator] Shonda [Rhimes] likes to put us through is probably a lot worse."
The situation also affects the two strong women in Fitz's life, his wife Mellie (Bellamy Young) and former mistress Olivia Pope (Kerry Washington), both of whom have their own complications. Mellie has already meddled in her husband's political decisions and threatened to shoot him if he takes up with Olivia again. Asked if Fitz ever questions her behavior like viewers sometimes do, Goldwyn said, "All the time. I think regularly, on a daily basis."
"What's wonderful about that character," he continued, "and what I think Shonda does with all of us, really, she goes dark and light. One minute you're thinking [Mellie]'s awful and another minute you feel great compassion for her. She's in love with a man who's no longer in love with her and that's a terrible thing."
That's because Fitz is in love with Olivia, and although she's now seeing another man, Fitz hasn't let go of her. "At the end of the first season I offered to resign the Presidency to be with her but she rejected that," Goldwyn explained. "This whole season has been me trying to get her to deal with me and she keeps shoving me away. Fitz will do everything he can and take greater and greater risks to try and not lose Olivia."
With the continuing tension in the President's relationships and now having him publicly targeted, Scandal is firing on all cylinders. "This season's just been great. It gets better and better," said Goldwyn, who is enjoying his first series regular role.
"One of the things that's been really fun recently is there seems to be a sort of momentum building in terms of following of the show," he added. "After last week, Twitter was burning up."
Those devoted fans won't want to miss tonight's episode of Scandal. "[It] is even better than the week before," said Goldwyn. "You find out a lot about a lot of things. It's really great television."
You can keep up with Tony Goldwyn on Twitter (@TonyGoldwyn). Scandal continues tonight at 10 PM ET/PT on ABC.
For more from Brittany Frederick, visit Digital Airwaves and follow me on Twitter (@tvbrittanyf).
(c)2012 Brittany Frederick/Digital Airwaves. Appears at Starpulse with permission. All rights reserved. No reproduction permitted.