Who Made It To The Finals On 'Dancing With The Stars'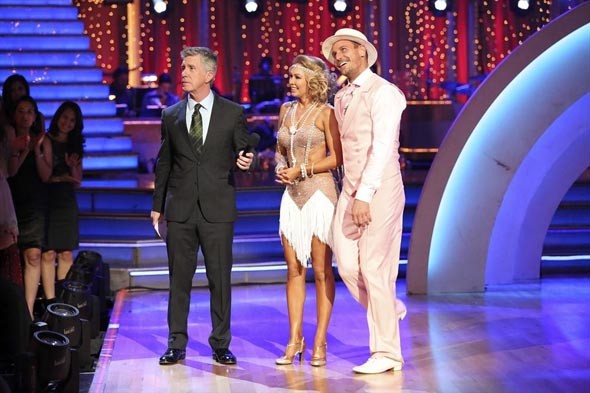 It's the last results show on "Dancing with the Stars" before a winner is crowned. As the show celebrated its 300th show, one couple would be eliminated from the competition just one week shy of the finals.
The show kicked off with a performance from the DWTS Troupe and the professional dancers - from this season and the past.
On performance night four of the five couples earned a perfect score of 30 points; one of those couples was the first to be advanced into the finals - after saying that mama will be happy, host Tom Bergeron announced that Jacoby and Karina were safe.
Head judge Len Goodman said that with four perfect dances, it was difficult to decide which one to choose for the encore dance; but they decided upon the Argentine Tango by Kellie Pickler and Derek Hough.
This week's AT&T Spotlight dance was 10 year old Sophia Lucia with her favorite dancer Chelsie Hightower, Lindsay, Whitney, and Tyne. Sophia just broke the record for the most consecutive pirouettes with 55 and is now listed in the Guinness Book of World Records.
This week's musical guests were British boy band The Wanted and Canadian pop rocker Avril Lavigne.
In the next results Kellie and Derek were safe but Zendaya and Valentin were in jeopardy and would have to wait until the end of the show to learn their fate.
Sharna and Gleb performed a steamy dance as internet discovery Christina Glimmie sang.
The last two couples get their results when Aly and Mark are in the finals but Ingo and Kym are in jeopardy.
In the final results of the night the last couple moving on to the finals is Aly and Mark.
While he expected to be eliminated after the first couple of weeks, Ingo and Kym made it all the way to the semi finals before being eliminated. The "General Hospital" star Ingo Rademacher said, "I thought I was going to be done after, like, two weeks … but Kym has choreographed the most amazing routines and she catered them towards my two left feet and it got us this far, so I've really got to say, it's been an amazing experience."
Next week for the first time four couples will be competing in the finals for the mirrorball trophy. Each couple must perform three dances including the Freestyle which is being supersized this week.
Here are your final four that will be competing for the mirrorball trophy next week:
Zendaya Coleman with partner Val Chmerkovskiy
Jacoby Jones with partner Karina Smirnoff
Kellie Pickler with partner Derek Hough
Alexandra Raisman with partner Mark Ballas