Who Is 'The Good Wife's' Matthew Goode?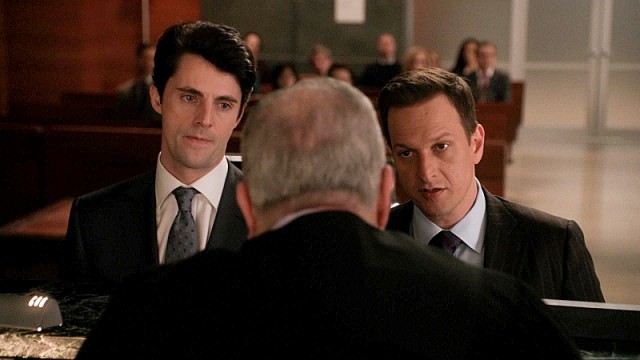 You can't really replace Josh Charles, considering that he's one of the best actors of all-time. But as The Good Wife moves on from Will Gardner, if we've indeed already met his replacement, he's a pretty good catch, too. Matthew Goode is a damn fine actor in his own right, and if you don't already know him, well, that's what we're here for.
Prior to his playing top state's attorney Finn Polmar in Sunday's pivotal episode, you probably recognized Goode as Mandy Moore's love interest in the rom-com Chasing Liberty a decade ago. Or a little closer to the present tense, he was Amy Adams' love interest in Leap Year. But dig a little deeper, and you'll find one of England's more underappreciated actors.
Goode gave a tremendously moving performance as Hector, the newlywed who gets short shrift when his new wife (played by Covert Affairs star Piper Perabo) falls for another woman in the 2006 flick Imagine Me & You. Even with the main plot of the movie stacked against him, you still came to care for him deeply. He followed that up the next year with a completely different role as career criminal Gary Spargo in one of the best films you've never seen, The Lookout. It's Goode's performance, injected with quiet menace that gets under your skin and stays there, that's a major reason why it's such a brilliant film.
He gained attention for gamely taking on the starring role of Charles Ryder - previously played by Jeremy Irons in the acclaimed 1981 TV serial - in the 2008 remake of Brideshead Revisited opposite Ben Wishaw, and found wider exposure as the villainous Adrian Veidt in Zack Snyder's adaptation of the vaunted graphic novel Watchmen. You probably also spotted him opposite Nicole Kidman in the horror flick Stoker.
But to find Goode's best performance, you once again have to depart from the mainstream. In 2011, he starred in an Australian drama film called Burning Man. Playing Tom, who loses his beloved spouse to cancer and then subsequently loses the plot of his life, he basically puts the whole picture on his shoulders - and brings the audience to its knees.