Who Is The Better Liar: Jimmy Fallon Or Kate Hudson?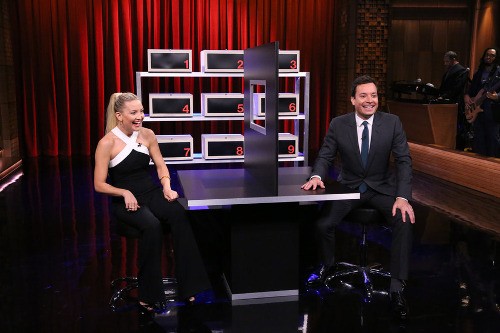 Last night on The Tonight Show Starring Jimmy Fallon, the host decided to test if he could out-lie actress Kate Hudson – and a turtle in a jelly mould was involved.
In yet another installment of Box of Lies, Jimmy and Kate tried to guess if the other was lying when they described the odd items pulled out of boxes. If that sounds easy, try to tell your opponent you have an orange hamburger with a straight face.
As he's done throughout his Tonight Show career, Jimmy knows how to get the most out of his guests and fill air time with more than simple comedic bits. He also likes to race them on bizarre vehicles around the set and challenge them to beer pong. He's also played Box of Lies with Jennifer Lawrence and Tina Fey, the latter of which involved many "in my box" jokes.
One of these days we need to see a behind the scenes video of where they get some of these items.