Who Is Justin Timberlake Hooking Up With?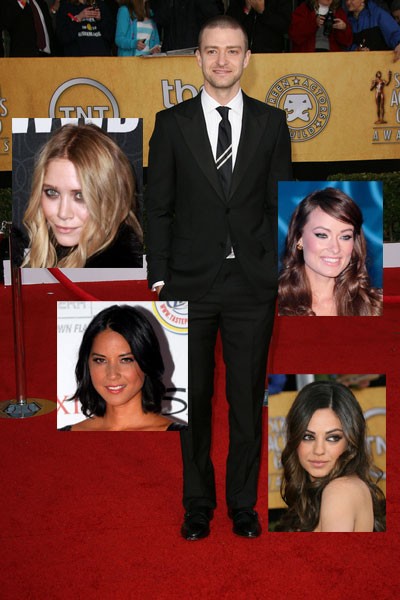 Justin Timberlake is one of Hollywood's most eligible bachelors. The pop superstar parted ways with Jessica Biel in March after nearly four years of dating. 
He just told Vanity Fair magazine, "I would rather not talk about her, because it's hurtful for me...She is the single-handedly most significant person in my life...In my 30 years, she is the most special person, OK?...I don't want to say much more, because I have to protect things that are dear to me - for instance, her."
One of the rumors surrounding his split was that he cheated on Biel with Olivia Munn.
Reports earlier this week linked Timberlake to Ashley Olsen, who recently split from her partner, Justin Bartha. But the singer's rep has denied the claims, insisting the relationship is purely platonic and telling GossipCop.com, "They've been friends for a long time."

Justin has been linked to several stars since his split from Biel, including Olivia Wilde. Earlier this month Timberlake's representative insisted there was nothing romantic between the two. His rep told People.com, "They are friends and are not romantically involved, nor is Mr. Timberlake romantically involved with anyone."

Timberlake stars in the steamy film "Friends With Benefits" opposite Mila Kunis, which hits theaters July 22.  There's no rumors linking them yet, but that could change in the weeks leading up to the movie's release date. There's no such thing as bad publicity, right?