Who Is Jeremy Renner? The Briefing On Film's Newest Action Star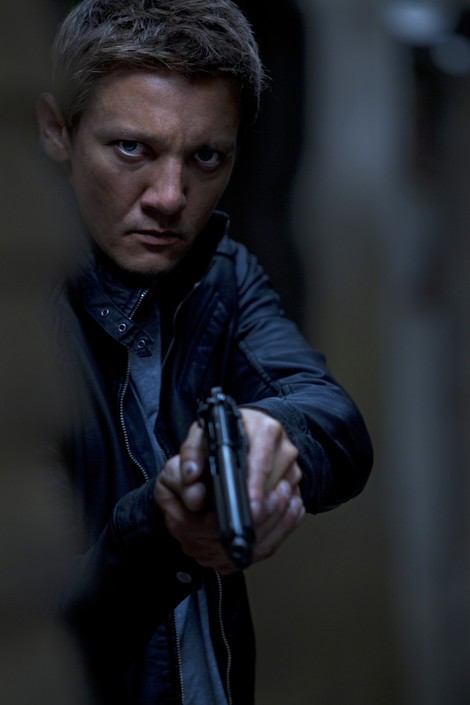 With The Bourne Legacy in theaters Friday, actor Jeremy Renner is poised to be part of not one, not two, but three blockbuster films in recent memory. But who exactly is this guy who's seemed to explode out of nowhere? Here's your primer on all things Renner related.
The Modesto, Calif., native, 41, became widely known when he earned an Oscar nomination for his starring role as Staff Sergeant William James in 2009's The Hurt Locker. However, he was previously one of film's truly underrated actors, turning in outstanding performances with much less attention.
In an interesting bit of trivia, Renner attended the same high school as another critically acclaimed actor: Justified star Timothy Olyphant.
Renner's career followed the general Hollywood trajectory before his sudden explosion of fame. Though he began his acting career in 1995's National Lampoon's Senior Trip and scored early TV guest roles in shows such as CSI: Crime Scene Investigation and Angel, Renner's "breakout" role is generally considered to be 2002's Dahmer, in which he played serial killer Jeffrey Dahmer. It was this film that would lead Kathryn Bigelow to cast Renner in The Hurt Locker years later. For his part, the actor said the role "messed with me for a couple of years."
2003 saw Renner move into more mainstream films with the role of disillusioned former cop Brian Gamble in S.W.A.T., working opposite Colin Farrell and Samuel L. Jackson as one of the movie's primary antagonists. The film was not well-received, but was one of several which continued to establish Renner's ability to play the bad guy.
But even as he gained a reputation for villainy, he was also able to play heroes: in 2007, he had a significant supporting part as one of the protagonists in Danny Boyle's horror flick 28 Weeks Later.
Two years later, in 2009, his good side was front and center on the small screen, wenner was the leading man in ABC's police series The Unusuals. His performance as Jason Walsh, a tough detective in a New York precinct full of quirky cops, was well-received by audiences. He had the chance to show his range, playing both drama and comedy in a show that fit into neither box, and anchoring its ensemble with ease. However, the series was axed after just one 10-episode season.
Yet even with the show's demise, that was to be Renner's breakout year. Hurt Locker, which Renner had filmed before the pilot of The Unusuals, would score him his first Oscar nomination as well as numerous other awards and nominations. Although he did not take home an award personally, the film did go on to win Best Picture as well as Best Director for Bigelow, making her the first female director to earn the prize.
After The Hurt Locker, Renner co-starred with Ben Affleck in Affleck's 2010 directorial debut The Town, based on the novel Prince of Thieves by Chuck Hogan. Renner's turn as Boston bank robber Jem Coughlin earned him more critical praise and a second Oscar nomination.
In 2011, he followed his Oscar successes up with a co-starring part as William Brandt opposite Tom Cruise in the fourth installment of the Mission Impossible franchise, Mission: Impossible - Ghost Protocol. That was only the first big-name property to come calling. Earlier this year, Renner played the role of expert archer Clint Barton/Hawkeye in the box-office smash The Avengers. Avengers 2 is already in the works, and no one's ruled out a Mission: Impossible 5.
Both films not only exposed Renner's acting chops to a wide audience but established his physical presence as well: he performed many of his own stunts, with the Avengers coffee table book calling him "incredibly agile" and a recent piece in UK film magazine Empire saying of his action bits in Legacy that he "looks so comfortable, it's barely even worthy of comment."
That's not the only additional talent Renner has: he's also a singer-songwriter, guitarist, keyboardist and drummer whose vocals have been heard in his films North Country (2005), Love Comes To The Executioner (2006) and The Assassination of Jesse James by the Coward Robert Ford (2006).
Now with Bourne Legacy, Renner is part of a third major action franchise. In what capacity remains to be seen; although he shoulders the lead of Legacy, the film takes place concurrently with previous events in the series, so the story of Aaron Cross could continue either with further solo adventures or alongside Jason Bourne. What is for certain is that Legacy, being his third major movie opening since December, cements Hollywood's new view of Renner as a bankable leading man.
While it might look like he's just now arrived, Jeremy Renner certainly hasn't come out of nowhere; after almost 20 years, he's a hard-working and talented actor who is finally, deservedly part of entertainment's upper echelon.
(c)2012 Brittany Frederick/Digital Airwaves. Appears at Starpulse with permission. All rights reserved. No reproduction permitted.