Who Are The Best Pianists In Pop Music Today?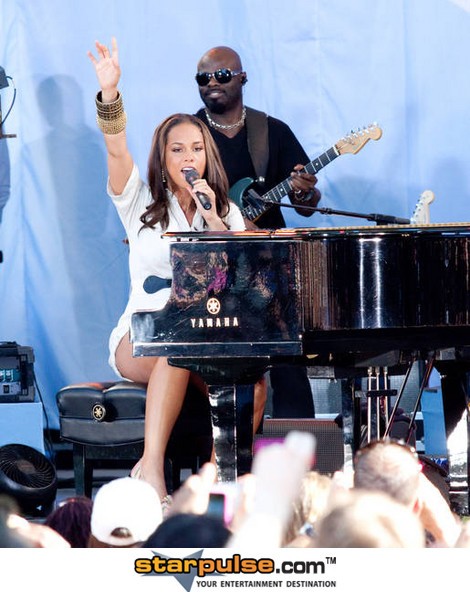 Who are the best pianists in popular music today? September is National Piano Month and before it runs out, we'd like to honor it with our picks of current popular performers who are crafting successful pop music careers to the joy of piano lovers.
Check out our list below, if we missed a favorite pop piano performer of yours let us know iin the comment area below.
Alicia Keys

Piano player Alica Keys has found the "key" to her success has been to perfectly balance her classical discipline with her love of Hip Hop and R&B.  Her piano playing style, which perfectly complements her wide range of vocal phrasings, is soulful and classy.
Sara Bareilles

Sara Bareilles has combined her performing talents, with lyrical storytelling and witty piano based tunes to pop success.  Her piano playing style is down to earth realness, and her delivery is grounded.
Chris Martin

Coldplay's chart topping music, and the band's appealing piano based melodies played by pianist/lead singer Chris Martin, has brought the band world-wide fame. Martin's playing style is best described as romantic and intimate.
Tori Amos

Tori Amos brings a razor sharp Punk esthetic to her classical chops. Amos' piano playing style is alluring and complements the fragile idiosyncratic tensions found in her vocal performances.

Lady Gaga

Lady Gaga always share her stage with one other main act: her piano.  Her piano playing style, aside from her other conceptual performance props, tends to be direct, to the point, up front & center and rebellious.
Bruno Mars

Bruno Mars is today's new "king of melodies," and he owes it all to memorable piano based melodies that have become current radio staples.  Mars' piano playing style is all vintage Soul sweetness.
There is much more to piano than pop music so be sure to visit the National Piano Foundation where they encourage people of all ages to study and appreciate piano music.
Be sure to let us know if we missed someone.