Whitney Houston's Sister-In-Law: 'She Was Looking For Love In All The Wrong Places'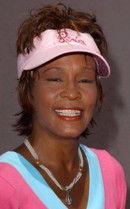 Whitney Houston's sister-in-law has opened up about the tragic star's on/off romance with R&B star Ray J, insisting the singer was looking for love "in all the wrong places."

In a candid TV interview with Oprah Winfrey, which aired on Sunday night, Houston's manager Patricia, who is the wife of the late superstar's brother Gary, confessed she never approved of the singer's relationship with singer Brandy's sibling.

She said, "I saw her chasing a dream... the dream that she was chasing was younger, in my opinion a young man that's thriving and loved to be out and about."

However, Houston was just looking for "love and comfort," according to Patricia.

She added, "I just felt that she was chasing something that would ultimately hurt her."