Whitney Houston's First Posthumous Single, 'Never Give Up,' Debuts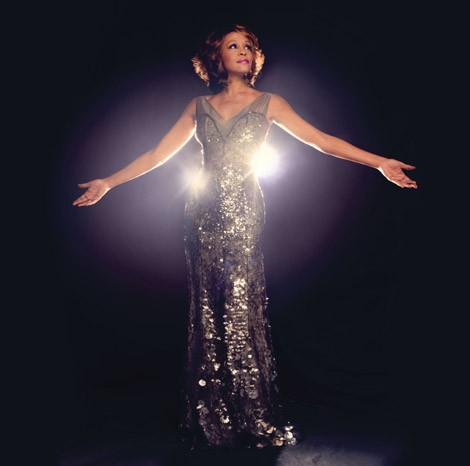 The lyric video for Whitney Houston' previously unreleased single, "Never Give Up," made its debut online Tuesday; and the song is set for inclusion on her upcoming greatest hits package.

The Jermaine Dupri-produced "I Will Always Love You – The Best of Whitney Houston" drops Tuesday, November 13, and features 18 of the late singer's classics, including "Saving All My Love for You," "I Wanna Dance with Somebody" and "Greatest Love Of All." The album also features a duet with R. Kelly on the newly remixed "I Look To You."

The title track, "I Will Always Love You," was featured on the soundtrack to her film The Bodyguard, which she starred in alongside Kevin Costner.

Earlier this week supermodel Heidi Klum told daytime talk-show host Ellen DeGeneres that she recently watched the film for the first time, saying that she "had to" considering she's now dating her own bodyguard, Martin Kirsten.

"I've actually watched that movie since [we started dating]. I had to... (I am) very happy with him."

She's even considering dressing up as Houston's character for next year's Halloween party (this year's was canceled due to Hurricane Sandy).

"That's going to be my Halloween costume next year," she says. "Maybe."

TV network CBS is set to pay tribute to the singer, who accidentally drowned in her hotel room bathtub in February, next week as well. "We Will Always Love You: A Grammy Salute To Whitney Houston" airs November 16th. Check your local listings.


Check out Whitney's "Never Give Up" below...


"I Will Always Love You – The Best of Whitney Houston" Track Listing:
1. You Give Good Love
2. Saving All My Love For You
3. How Will I Know
4. Greatest Love Of All
5. I Wanna Dance With Somebody
6. Didn't We Almost Have It All
7. So Emotional
8. Where Do Broken Hearts Go
9. I'm Your Baby Tonight
10. All The Man That I Need
11. I Will Always Love You
12. I'm Every Woman
13. I Have Nothing
14. Exhale
15. I Believe In You & Me
16. My Love Is Your Love
17. I Look To You featuring R. Kelly
18. Never Give Up