Whitney Houston: Inside Her Troubled Life & Tragic Death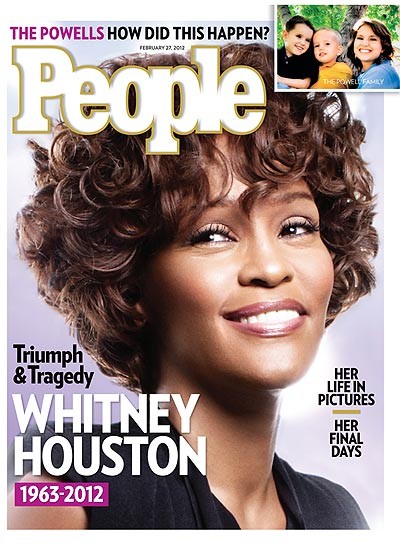 The inside story on the investigation into Whitney Houston's tragic death at the age of 48 in a Beverly Hills hotel room is examined in a special 21-page cover story in this week's issue of PEOPLE. Plus, the magazine looks back at the singer's explosive rise to fame and the sad spiral that wrecked her life and career. Also, Aretha Franklin shares her memories of Whitney as a little girl -- watching her growth and development as an artist. From Houston's beginnings in the church choir to her record-breaking ascent into superstardom, the belter with the once-in-a-generation voice struggled to maintain her gifts amid her battles with insecurity and addiction. The once-shy child became a musical force of nature who ultimately fell to her demons.

At 19, Houston's life would radically change course when she was discovered singing at a NYC supper club by Clive Davis, who promptly signed her to Arista Records and would guide her career until her death. Personally choosing all the songs and producers for her audacious 1985 self-titled debut, the music legend, now 79, "was a father figure and her Svengali," says a close source. But behind their seemingly unflappable partnership, says another source, Houston sometimes chafed under Davis's intense involvement in her life. "She was his shining star – his beacon," a source tells PEOPLE. "But she had a lot of resentment over not having control over her career and being forced to be somebody she wasn't."

And she wasn't a "goody two-shoes," says a record exec who worked with Houston for many years. She grew up proud of her "street" roots in Newark, NJ, says the source, but Houston was meticulously groomed by Davis to fulfill the role of America's Singing Sweetheart – and it was, at times, a deeply uncomfortable fit. "She was in pain from almost living a double life," says the source. "She wanted to be down with her community. That's who she really was. But because of her career, she also had to portray this pure pop princess in gorgeous gowns, singing songs the white community adored." A close family member recalls that Houston "could swear like a sailor. She complained that she once said the f-word backstage at an awards show, and Clive told her, 'Madonna can talk like that. You cannot.'" It was only among family and friends, says the relative, that Houston was free to be herself. "She would exaggerate a white girl voice, and we would all laugh," recalls the family member. "And we'd be like, 'You don't have to talk that way. There aren't no cameras here.' She loved us saying she was [street]." As Houston herself once proudly declared, "I'm nobody's angel. I can get raunchy."

Enter Bobby Brown, an R&B bad boy who appealed to the singer's rebellious side. "She was really a down-and-dirty girl from Jersey," says the close source. "That's why Bobby was perfect for her." Adds a close family friend who has known the Houstons for 30 years: "People who didn't know Whitney intimately where so shocked when she started dating Bobby, but those of us who knew her understood the attraction. They had a lot more in common than people realized."

As Houston's star continued to rise, she increasingly struggled with her fame. "She would say, 'Getting all this attention and flying around and giving interviews and performing, you have no idea how stressful it is being in that position,'" recalls Gary Catona, her vocal coach. As the stress worsened, she increasingly turned to drugs. "For years, Whitney was a functioning addict," says the family member. "She got really good at hiding it. After using cocaine, she could get onstage and just kill it." She was surrounded by an entourage – most of them on her payroll – indulging her every whim. "Everyone was afraid to say no to her," says one insider. "For stars like Whitney…they never emotionally mature past the age where they become famous. They're like children, ranting and raving until they get what they want. It's like, 'I want my coke, and if you say no, you can find yourself another job.'"

But the born entertainer never gave up hope for her ever-elusive-comeback. "She said once that Aretha Franklin told her, 'I'm passing the torch to you,'" recalls Catona. "She was conscious of her responsibility. 'I still have the voice,' she told me. 'It's locked inside and wants to be freed.'" While the voice is now gone, those who loved Houston hope that the pain she felt is over as well. "She had a lot of inner struggles and personal issues," says a longtime friend. "There was the public perception of who she was and what was expected of a church girl from New Jersey. But she was so many other things, and not being able to be herself was a hell of a burden. Now she can finally rest. I'm sure she is at peace."


*Also In This Week's 'People'*

-The Powells: How Could This Happen?
-Jennifer Aniston's 43rd Birthday Bash: "Justin [Theroux] Was Doting On Her"
-Macaulay Culkin's Shocking Transformation: "He's Just A Homebody"
-Christopher Plummer: "A Large Portion Of The World Still Asks Me To Sing 'Edelveiss'"

Pick up a copy of the new issue of PEOPLE Magazine, on newsstands everywhere now or visit PEOPLE.com!