Whitesnake To Help Re-Launch Looted Record Store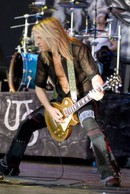 The stars of Whitesnake will make a special appearance at a London record store later this month to re-launch the shop after it was looted in riots last summer.

Members of the rock group, including guitarist Doug Aldrich, bassist Michael Devin and drummer Brian Tichy, will attend the reopening of Rockbottom Music in Croydon, south London, seven months after it was targeted in the civil unrest which swept across England in August.

The shop was looted and damaged by fire and subsequently underwent a massive refurbishment, but it won't be open again to the public until April after suffering flood damage on Saturday.

Manager Carl Nielsen tells the Croydon Guardian, "I'm really pleased they are taking the time to support the store... It never rains, it pours - you could say we are still rock bottom. We'll still hold the Whitesnake event but the actually opening will have to be postponed a few weeks."

The event will take place on March 28th.