'White House Down' Review: You've Seen It Before But This Time It's Better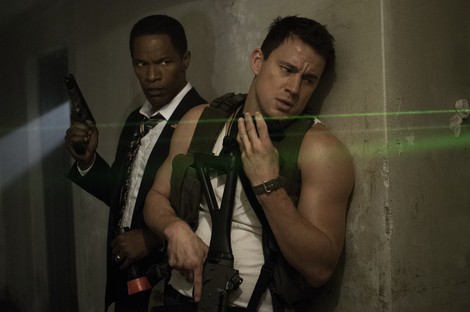 Channing Tatum plays John Cale, a U.S. Capitol policeman, who is trying really hard to be a good dad to his preteen daughter Emily (Joey King).  John, in the past, had trouble holding down a job, had problems with authority and was your basic screw up.
However the guy wasn't a complete loser...far from it.  Cale completed three tours of duty in Afghanistan and during one of them, he just happened to save the life of a fellow soldier. And not just any soldier. This one is the son of the Speaker of the House (Richard Jenkins).
The Speaker repaid Cale by hiring him as a part of his security detail.  However, Cale has higher aspirations. He wants to be in the secret service and guard President James Sawyer (Jamie Fox).  In fact, he's applied for the job. 
This makes his daughter Emily one very happy girl.  Not only is she obsessed with politics, but thinks Sawyer is the greatest thing since iPhones.  Well not really, but she really does like the man.
As a surprise, Cale arranges to take Emily on a tour of the White House which turns out to be the same day as his interview for the secret service job. Perfect right?
Not quite.  During his interview, led by Secret Service Agent Carol Finnerty (Maggie Gyllenhaal), Cale is told he just doesn't have what it takes for the job and will never ever become an agent.  In other words, she encourages him to aim lower...much lower.
But as the movie gods would have it (or in this case screenwriter James Vanderbilt), as Cale and Emily tour the White House all hell breaks loose.
That's right folks, the Capitol building is bombed, the White House is invaded and some really nasty men (led by Jason Clark) take hostages, shoot people, and blow things up.
I won't tell you their motives or who's behind it all but I will say, that by the time this movie is over, John Cale won't ever have to worry about being unemployed.
Channing Tatum and Jamie Fox play off of each other beautifully.  They have great chemistry and even though bodies are dropping left and right, there is still plenty of room for humor between the two guys.
The whole cast including James Woods as the head of the President's detail, Nicolas Wright as the funny White House Tour guide, and Rachelle LeFevre, as Cale's ex wife are all excellent.    
I gave 'White House Down' which opens in theatres Friday June 28, 2013 four bagels out of five.  I was thoroughly entertained and when you see a big budget action movie, that's exactly what you want to be.
Check out our funny video review to see what John thought and for more of our witty banter.
Please SUBSCRIBE to our channel on YouTube and LIKE us on our Two Jews on Film Facebook page. Thanks everyone.