'White Collar' Star Tim DeKay Guests On Tonight's 'Body Of Proof'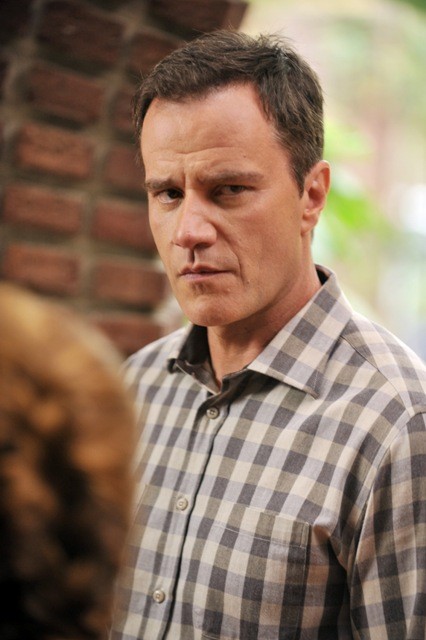 Tim DeKay will be on two different shows at the same time tonight. As the White Collar season finale airs on USA, the veteran actor is also guest-starring on an all-new Body of Proof on ABC.
The White Collar season finale is called "In The Wind," and DeKay's FBI agent Peter Burke is still dealing with a suspicious new boss (guest star Emily Procter, CSI: Miami) when he gets a call from his old supervisor, Reese Hughes (James Rebhorn), who isn't going quietly into retirement. As the hunt for the elusive evidence box comes to an end, Peter has a chance to nab corrupt Senator Pratt (guest star Titus Welliver, The Good Wife), but other people's choices also put him into a world of trouble. In true White Collar fashion, the end of the season also means the beginning of another chapter.
Still, it's better than dealing with the Devil. "Lost Souls" is the title of the Body of Proof episode, in which DeKay plays Caleb Banks, a man who's in hot water following the death of his daughter Rebecca. When Dr. Megan Hunt (series star Dana Delany) and her colleagues investigate, everything points to a case of severe child abuse. Yet Caleb and his wife Laura (Margaret Easley) insist that their child was killed after being possessed by Satan, and Laura begs for Dr. Hunt's help to protect the couple's surviving daughter from the same fate. It's a completely different role for the actor, and folks who are only aware of him as the warm, witty Agent Burke are likely to be surprised.
It's not DeKay's first guest appearance during the run of White Collar, though it is the first to air at the same time as new episodes of the USA series. In 2011, he appeared as on NBC's Law & Order: Los Angeles in the episode "Silver Lake," as the husband of a rape-murder victim, and was seen in the third season of TV Land's Hot in Cleveland the next year. Also in 2012, DeKay took on the role of Kieran Ryker on Chuck, the action-comedy on which his White Collar co-star Matt Bomer had the recurring role of Bryce Larkin.
White Collar airs on USA and Body of Proof airs on ABC, both at 10 PM ET/PT.
(c)2013 Brittany Frederick. Appears at Starpulse with permission. All rights reserved. No reproduction permitted. Visit my official website and follow me on Twitter at @tvbrittanyf.