'White Collar' Makes Hilarie Burton A Regular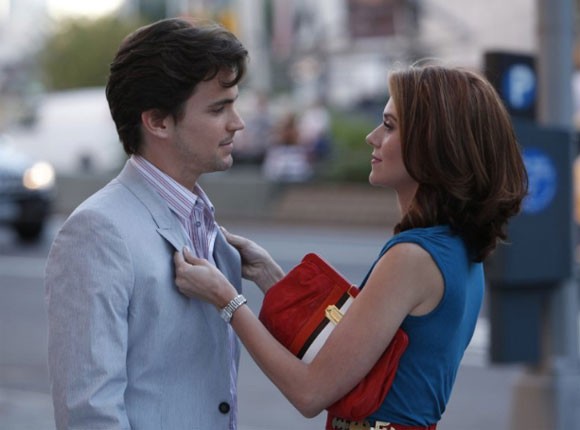 White Collar promoted someone to series regular - but unfortunately, it wasn't Sharif Atkins.
According to an early report from TVLine, the show has elected to make Hilarie Burton a regular in the upcoming third season (for which it was renewed in September). No details about the decision, or how they plan on utilizing her character, insurance investigator Sara Ellis, are yet available.
I've never been a fan of the character, whom I've felt is redundant due to the existence of Alex Hunter (Gloria Votsis), another foil for Matt Bomer's Neal Caffrey with whom he routinely spars. Nor have I been wowed by Burton's acting; I felt her first appearance, "Unfinished Business," was the weakest episode of this second season. I'm not going to lie and say I'm thrilled about this news; in fact, I thought her heading off at the end of "Burke's Seven" was a perfect sendoff for the character at the conclusion of Burton's best episode yet. This is a decision I honestly disagree with.
I did a little reading while writing this piece, and early reaction seems mixed. The majority of people who embrace the choice seem to be those in favor of Sara sleeping with Neal; even the tone of the article leans obviously toward a romance. Others seem to disapprove or be generally ambivalent, citing the fact that the show is and will remain about Bomer and Tim DeKay. Only time will tell how Burton's addition pans out.
Putting aside my personal feelings, however, the choice also raises some interesting questions about White Collar and about TV shows in general. How do the writers plan to make use of an insurance investigator in every episode? It seems like that may be a stretch. On function alone, the character seems as if she'd be better off staying a recurring foil. Or will Burton have one of those deals where she's credited as a regular, but does not have to appear in every episode (like, for example, Paget Brewster's current deal on Criminal Minds)? That would seem to make the most sense.
But furthermore, Burton's promotion reminds me of a slightly bothersome trend in television of recent: shows deciding that a guest or recurring character works and making a quick move to promote them to series regular, perhaps without entirely thinking the idea through. We've seen Hawaii Five-O call Taryn Manning a regular, only to ship her character off the show this season. Rachel Nichols quickly made regular on Criminal Minds this year. For awhile there, it seemed Grey's Anatomy was adding regulars left and right. While some characters may work on a guest or even recurring basis, their success in that capacity doesn't always indicate that they'd make a good regular.
As for Sharif Atkins, maybe it's a contractual thing with him too, because he's been in 27 of White Collar's 30 episodes and has yet to move beyond "guest starring" credit. He's practically a regular as it is, so I wonder why he hasn't been named one. Perhaps he'll see a promotion in season three as well?