Where To Buy Powerball Tickets & How To Check The Winning Numbers Online For Saturday's $700M Jackpot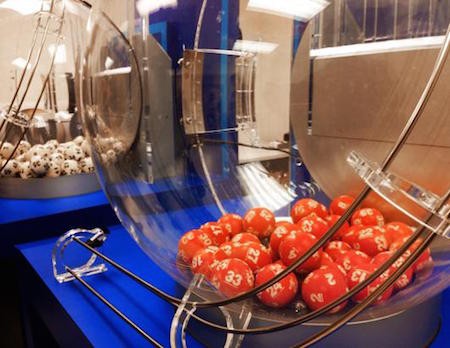 The $700 million [now $949.8 million] Powerball jackpot is creating a frenzy across the nation, prompting questions from like "Where can I buy a Powerball ticket?," "What numbers should I play?," and "What time will the winning numbers be drawn on Saturday night?"
UPDATE: There were no winners on Saturday night. Get ready for a minimum $1.3 billion jackpot on January 13!
BREAKING: Lottery officials say there were NO winner in tonight's Powerball, jackpot now at record $1,300,000,000 pic.twitter.com/vfbGnNhaRd

— CNBC Now (@CNBCnow) January 10, 2016
Currently the largest jackpot in Powerball history, heavy lottery sales could push the jackpot even higher before the drawing on January 9, 2016. If no one wins on Saturday night, the top prize will be at least $1.3 billion.
UPDATE: The winning numbers for the $949 million jackpot are: 16-19-32-34-57 PB 13

Don't have a Powerball ticket yet? Here's everything you need to know ahead of Saturday night's drawing.
Where are Powerball tickets sold? Purchase tickets for $2 each at convenience stores, liquor stores, supermarkets, and ticket kiosks inside lottery retailers in 44 states, Washington D.C., Puerto Rico, and the US Virgin Islands.
What is the latest time tickets can be purchased? You can buy Powerball tickets up until approximately 9:50 p.m. ET on Saturday night. Some lottery retailers stop sales earlier and lines will be long, so buy your ticket as early as possible.
Which numbers are the luckiest? There is no way to predict what numbers will be drawn, but some are drawn more frequently than others. WMC5 News reports that number 42 (white ball) has been drawn the most often, followed by 16, 35, 26, and 19. The most popular red Powerball numbers drawn over the past 10 years are 20, 37, 2, 31, and 35, with the number 20 drawn at least 50 times.
Lottery players can pick six of their favorite numbers (white balls 1-65, red Powerball 1-26) or let the computer (Quick Pick) choose them.
What time is the Powerball drawing on Saturday night? The winning numbers will be drawn at 10:59 p.m. ET on January 9. Starpulse will post the numbers here soon as they are drawn, so bookmark this page ahead of the drawing.
How much money will the winner of the $700 million Powerball jackpot [Now $949 Million] get? Based on a $700 million jackpot, if one person wins the entire grand prize, they will have to choose between a 30-year annuity or a one-time lump-sum payment. Here's how it breaks down.
The lump-sum payment is based on the cash value of the jackpot — currently $428.4 million — before federal (25 percent) and state taxes.
The 30-year annuity will be based on the full $700 million jackpot. The winner will receive 30 annual payments of approximately $23.3 million each, with the first payment made shortly after the ticket is validated.
The payouts are subject to change if the jackpot increases before Saturday night's drawing or if there are more than one winner.
What will you do with your gigantic windfall if you win the $949 Powerball lottery jackpot on January 9?