Where Do Bands Get Their Names?

Sometimes the music doesn't matter. A band that channels the combined genius of
John Lennon
, Strauss and
The Spice Girls
can still fall flat with the wrong name. After all, who wants to tell people that their favorite band is called "Truck" or "Lug Nut?" A bad name can kill the potential of any group of musicians. It took more than a few tries to get it right for many of the most popular groups of all time. A few young gents from Britain started off their career calling themselves
The Detours
and then
The High Numbers
before ultimately settling on
The Who
.
Rock history is rife with lore about how our favorite musicians settling on a name. Many stories aren't as interesting as you would hope. Blues legend
Muddy Waters
(born McKinley Morganfield), for instance, enjoyed playing in the mud as a child. Nobody knows how
Bob Dylan
came up with his name, and Prince's real name is actually
Prince
. There's enough of these one sentence stories to fill a book.
Occasionally the story behind a band's name reflects their journey as musicians.
Perhaps one of the more interesting stories comes from the simplest of names:
The Band
. The group formed as
The Hawks
in the late 1950s as the backing band for rockabilly musician Ronnie Hawkins. Hawkins, a character who often described his personal style as "the big dick look," named the group after himself. After a five year stint, the Hawks hoped to break away from Hawkins and make it on their own. They tried a number of different names like
The Levon Helm Sextet
and Levon and
The Hawks
, but none of them stuck.
As time passed, the band struggled to separate themselves from the
Strawberry Alarm Clocks
and Chocolate Watchbands that flooded the industry in the mid-to-late sixties. They tried The Crackers, but that terrified the straights at Capital Records.
Strawberry Alarm Clock - Incense and Peppermints

Then they tried The Honkies, but that didn't work either. They even tried The Canadian Squires, which proved to be too lame. The group's identity crisis ran on for so long that people didn't bother calling them anything anymore, just The Band. Satisfied with the name's minimalist and folksy feel, the guys just stuck with it.
The Band - The Weight from The Last Waltz (1978)

Sometimes musicians design a band's name to create some sort of impact in the listener. Some take the easy route and just throw a "fuck" in their name (Fuck,
Holy Fuck
,
Fucked Up
,
Fuck Buttons
), but others take a turn for the subversive. Manchester post-punk band
Joy Division
sent the British press into a frenzy over their name. Singer Ian Curtis came up with it after reading the 1955 novella
The House of Dolls
which described Joy Divisions, the alleged code name for Jewish women set aside as prostitutes in Nazi concentration camps. Needless to say, slave-like prostitution rings in Nazi Germany didn't sit well with many Brits. However, the controversy was short lived, as Curtis hanged himself just after the release of the band's second album. After the remnants of Joy Division formed the appropriately named
New Order
, the public became too busy taking ecstasy and dancing to "Blue Monday" to care much about anything.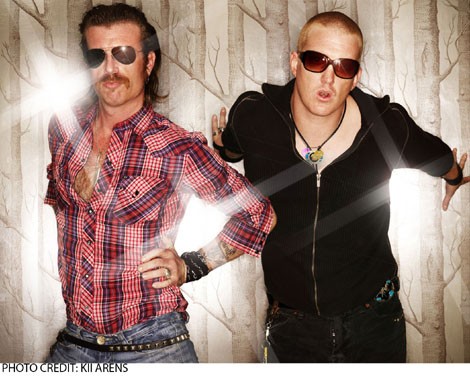 Being the self-referential dorks that musicians tend to be, many bands draw inspiration from other groups. An obvious example is
The Rolling Stones
, who named themselves after a Muddy Waters song. Some take it a step further. When forming their new project,
Jesse Hughes
and
Queens of the Stone Age
singer
Josh Homme
developed a theory that postulated the existence of two extremes in music: The Eagles and Death Metal. They wanted their group to fall directly between the two, so what did they do? They named themselves
Eagles of Death Metal
.
Musicians don't exclude movies from the naming process either. Many groups will simply lift the title and call it a band. Shoegaze pioneers
My Bloody Valentine
got their name from an early 1980s
Halloween
rip off about a ghostly coal miner who knocks off teenagers on Valentine's Day.
Black Sabbath
and
White Zombie
are both trashy exploitation films respectively starring aging horror pioneers
Boris Karloff
and
Bela Lugosi
. Members of the
Wu-Tang Clan
proved that they've watched far too many kung-fu movies by taking their name from the title of the 1981 film Shaolin and Wu Tang. Even
Bill Murray's
Groundhog Day
inspired the name of at least one band. Late 90s DC band
The Dismemberment Plan
took their name from a quote by the film's obnoxious insurance salesman Ned Ryerson (Needlenose Ned, Ned the Head. C'mon buddy! Case Western High!).
One modern trend for band names seems to come from too many trips to the zoo. Starting around 2005, many groups caused record stores to look like regular menageries. You've got
Panda Bear
and
Grizzly Bear
. Then there's
Deerhunter
and
Deerhoof
.
Caribou
,
Swan Lake
,
Mountain Goats
,
Arctic Monkeys
,
Fleet Foxes
,
Cat Power
, and
Frog Eyes
. There's the
Department of Eagles
and a
Band of Horses
. You've got
The Ponys
,
New Young Pony Club
, and
Ponytail
. You can watch
Wolf Parade
through your
Wolf Eyes
with your
Wolfmother
or
Be Your Own Pet
,
Minus the Bear
in an
Animal Collective
.
Animal Collective - Peacebone

If you're starting a band and don't know where to start, the trend these days seems to be random nouns. You can start with things on your desk: Bottle Cap, Glass Elephant, The Cell Phones. Another trick is to take the nearest book, open it, and point to phrase, which gives surprisingly good results (Book Buyers, When the School Day Ended, Pall Malls). Just please, make a promise not to name yourself anything like Sink or Butt Plug.
Story by
Kris King
Starpulse contributing writer